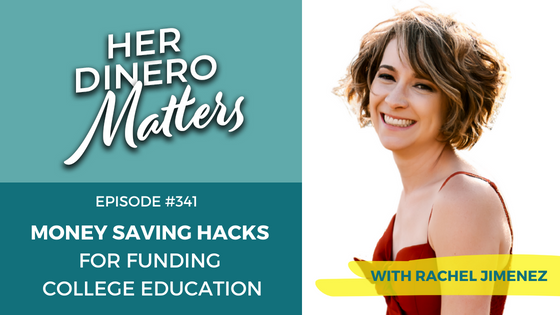 When you applied for scholarships at college, was the process easy or complicated? Have you found any tools to help you with this process with your kids? In today's episode you will learn several strategies to make this process much easier for you.
When it comes to making college decisions for your children, the high stakes can often cause stress and make it difficult to think clearly. Fortunately, there are options available to help ease the burden. It's important to maintain a positive mindset and explore all possibilities. Today's guest shows us how applying for scholarships can lighten the load and make the process more manageable.
From obtaining $100,000 in scholarships to building her own business while being a mother, wife, and working full-time, Rachel has made it happen and you can too.
What you'll learn about in today's episode:
Little known tips for applying for scholarships that can pay off when carried out.
How creating network connections helps in finding more scholarship opportunities.
The key questions to ask yourself for a growth mindset.
Listen to the Episode Below
You can also watch or listen on YouTube!
Resources from this episode:
Connect with Rachel Jimenez: moneyhackingmama.com
Previous episodes referenced:
A Conversation About How Building Credit is One Key to Achieve Your Goals
Related Her Dinero Matters episodes you may enjoy:
#25 – How She Thought Big and Unlocked Hidden Opportunities (with Sarahí Espinoza)
#149 – The 4 Part Process Your Soon To Be College Kid Will Benefit From With Pam Andrews
☕️☕️☕️☕️☕️☕️☕️☕️☕️☕️☕️☕️☕️☕️☕️☕️☕️☕️☕️☕️☕️
Get involved in our community:
Join the conversation in our community on Facebook: jenhemphill.com/community


Want to get social? Let's connect more on Instagram @jenhemphill
Enjoy the Show?
Be sure to never miss an episode by hitting the subscribe or follow button on your favorite podcast app! Get instant notifications of the latest episodes now!
Be sure to share with a friend (or two)! You never know what someone is going through in their financial life. Here is a tweet you can share now:
If you listen on Apple Podcasts you can review THERE. If not you can go HERE to review on Podchaser! THANK YOU!
Have Feedback?
Send us feedback via email to support@jenhemphill.com or click here to leave a voicemail.
The post, Money Saving Hacks for Funding College Education | HDM 341 appeared first on the Her Dinero Matters Podcast.