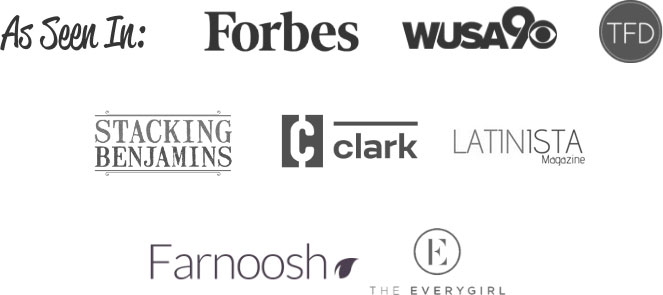 The Latest From The Her Dinero Matters Podcast
Her Dinero Matters is a bilingual podcast for women who want to become reinas of their money and love their dinero more.
Join Jen Hemphill, a former extreme frugalist turned reina of your money advocate each week for your dose of money confidence.
You will hear down-to-earth interviews and panel discussions from la comunidad Latina as well as solo episodes sharing simple actionable tips and strategies which you can implement right away.
The Her Money Matters Book
Had enough? Tired of hearing the traditional money advice? Get the Her Money Matters book. Gain confidence, delve into your money story, and make more progress than ever before. It's time to reclaim ownership of your financial life.
Love For Her Dinero Matters
Check out what others are saying about the Her Dinero Matters Podcast! (previously known as Her Money Matters)
---
Thanks for doing this work

March 23, 2023 by tanitsia from United States

Thanks Jen for putting this work out into the world. This podcast is wonderful!

Me encanta!

March 19, 2023 by Ariana Diamanté from United States

I really love Jen's podcast. I am a chronic spender, I have no clue what I'm doing with my money, and I've been looking for a podcast to help me out. Jen is encouraging, intelligent, and I have learned a lot about myself and the world of finances. I also love the bilingual / Latina perspective. Gracias Jen!

Fantastic show!

March 1, 2023 by Rachel Jimenez from United States

Jen is an amazing host and has amazing guests on her show that break down complicated topics to be simple and action-oriented. If you're looking for inspiration to get your personal finances together this is the place to be!

Inspirational and action-oriented!

February 7, 2023 by Mari Collins Harris from United States

Her Dinero Matters is a motivational podcast. Conducted in both English and Spanish, host Jen Hempill tells stories of women overcoming financial hurdles and the lessons they learn along the way. I loved hearing success stories from women of all walks of life, it's truly inspiring! I recently spoke with Jen on the podcast about how we can empower our children to be financially savvy, can't wait to hear it!

I learned so much!

September 15, 2022 by Agirlwithapassion from United States

This was so refreshing to listen to. I discovered some topics that are super helpful to wealth building. I also like how Jen does a recap at the end with her own thoughts.

Awesome podcast!

February 4, 2022 by valizarra from United States

I love Jen's podcast episodes. She provides such valuable information for Latinas and all women. She makes you want to learn more about the financial world and gets you motivated to take control of your finances.

Great show!

October 11, 2021 by Bronwen GMR from South Africa

Brilliant topics and discussions. Really enjoy listening thanks Jen!

LOVE it!

October 6, 2021 by Andrea-R0. from United States

I love Jen's podcast! The stories her and her speakers share resonate with me, and always leave me motivated for more. There's also a ton of tips and important information we should know. As Latinas in the US, it's massively necessary that we stay in the loop of things and understand how to be better at managing our money, and Jen does an amazing job at helping us get there!

I feel represented in this podcast

September 20, 2021 by ms.peez from United States

It's an amazing feeling to hear Latina's talk about the importance of dinero! This podcast touches on this topic in very unique ways and conversations. I feel represented!! I can relate!

Great show!

September 2, 2021 by Ciao.bambi from United States

Jen is a terrific host, and I love the variety of topics that are covered

AWESOME!

March 3, 2021 by Ima listener from United States

Jen is a fabulous host and wealth of knowledge! I highly recommend the listen!

Great podcast host

October 15, 2020 by Sylvia @smifinancial from United States

Jen is an experienced podcast host who has a great flow to her interviews. She really cares about getting the best information and tips to her audience!

Brilliant Podcast!

July 13, 2020 by Parashakti L from Ireland

This podcast was excellent in shining a light on the importance of knowledge!

Amazing Podcast!

June 30, 2020 by donotbuy16 from United States

I learned about this podcast through Cindy Zuniga's Instagram and I'm so glad I did!! It's an amazing show that showcases great women who share valuable finance information. This is create if you're fresh out a college individual like me.

Informative and Inspiring

May 21, 2020 by Wishmountain from United States

Just listened to episode 215 and was truly inspired by the guest and her story. Her thoughts were clear and really spoke to me. This was combined with Jen's perfect questions. In general love the theme and the messages throughout all Jen's episodes. Can't wait until next Thursday!

Very informative

March 9, 2020 by Ardelia08 from United States

I love Jen's delivery and information she gives about financial matters

Brilliant!

December 30, 2019 by Angel cal from United States

We need more voices like Jen's to help women learn to build wealth, become financially independent, and create their ideal lifestyle on their terms. The days of having a man as the financial plan are long gone. When you lift one woman, you lift them all. Great job!

Makes money management approachable

December 20, 2019 by April Moreno from United States

I love this podcast. The fact that it is culturally relevant for Latinas and also makes finances unintimidating makes it a great podcast to listen to. The episodes about reviewing and planning ahead for 2020 is interactive and so helpful. I am enjoying reviewing my finances with Jen's podcast guidance and tips. So glad I found out about this podcast!

Much needed!

November 1, 2019 by Suzflt from United States

Here's a voice of reason in the complicated world of money. I'm very grateful for Jen's podcast. Nicely done.

We need more voices like Jen

October 17, 2019 by cmalds from United States

Jen, gracias for making Latina and Latino voices heard. It's always a highlight to listen to your show and learn rod bits about money and personal finance. Un orgullo!

Eres la mejor !

July 27, 2019 by CeliaSusyChavez from United States

Una mujer emprendedora y con un sentido del humor igual que el mío! Escucho el podcast y siento como estuviera en una charla con una amiga! Mil gracias por tus enseñanzas ! y más orgulloso me da es que eres colombiana al igual que yo !

Great stories about people's money story

July 25, 2019 by Grow With Joe from United States

Jen does a great job at bring on guest to share their money story. If you think your alone when it comes to your money and pursuing financial security, you're not. This podcast will give you the confidence to help you pursue your money goals.

Really GREAT Content

July 25, 2019 by DDSquires from United States

I found this podcast in October of 2018, due to some circumstances beyond our control our financial life was a shambles. I had no idea where to start. I began listening, took advantage of the free resources that was offered and applying what seemed to fit our situation. It worked. I highly recommend Jen Hemphill and Her Dinero Matters if you are looking for content regarding how to manage personal finance geared towards women and growing financial confidence.

Her Dinero

July 17, 2019 by InspiredMoney.fm from United States

Love this podcast and the rebrand. The graphics are sharp. I look forward to listening when the new season launches. Jen is a great host, teacher, and invites fab guests.

Great Poscasts

December 6, 2018 by JennyK0457 from United States

Jen's Podcast is one that has quickly made its way into my normal listening schedule. I like how she hits topics like insurance, explaining financial services and other similar topics. She gives some great information about every day finances that we all need to consider keep it simple and easy to understand.

Jennifer is a great host

September 7, 2018 by Saoirse Sky from Philippines

Jennifer is one of the greatest hosts I've ever encountered. She doesn't just provide great content, she makes it so in a way that it's not just insightful but entertaining as well.

Awesome ! Love it !

August 14, 2018 by tamtamtamoc from United States

Jennifer is a great speaker and provides awesome advice for any gal wanting to make savings x

Awesome!

June 14, 2018 by Bethel Swift from United States

I've been recommending podcasts for authors and author-hopefuls. This one isn't just for writers (or really just for females either) but figuring out the money-making side of things can keep many of us (writers and women) locked into choosing between having time or $. Enter Jen Hemphilll's approachable podcast which helps to demystify the whole leveling up thing to help us break through to financial freedom, security, and Independence.

Learning Spanish love it!

April 8, 2018 by Financially Savvy Latina from United States

Love that you are incorporating spanish! Awesome we need more Latinx podcast:)

Very high-quality show

January 28, 2018 by Doug Goldstein from United States

With all of the different podcasts available today, very few of them stand out as exceptional. If you want to hear one which is truly worth every minute of your time, subscribe to Jen's.

Great show!

January 18, 2018 by Linda P. Jones from United States

Jen does a great job helping people get motivated and be sensible with their money. She shares great ideas that can make you smarter with budgeting and being confident about money. Thank you, Jen, for all you do for us women and for your exciting new book! I highly recommend it!

Awesome show, highly recommend!

October 30, 2017 by J. Barshop from United States

Jen and her guests share actionable and inspiring lessons on how to confidently manage your finances. Highly recommend listening and subscribing to Her Money Matters if you want the knowledge AND mindsets to build a healthier relationship with your money (and inch closer towards financial freedom as a result)!

Great

September 11, 2017 by StarLetterLunch from United States

I really enjoy this podcast. As someone who is finally beginning to take control of her finances, I really appreciate the good information presented in this podcast. It's informative but not intimidating at all. I really enjoy the interesting people she interviews, as well. Keep up the great work!

They don't teach you this stuff in school

August 24, 2017 by Jsilverb22283 from United States

Jen does a great job at interviewing her guests and sharing financial information that will help people on their path to financial success! They don't teach you this stuff in school, so Jen's podcast is critical for empowering women to become money advocates for themselves and take ownership of their financial situation. Don't go at it alone. Use Her Money Matters to help you move your financial life forward!

Good Useful tips

August 10, 2017 by Urban Flair Photography from United States

Lots of great tips. Well put together.

Great host and useful topics

May 16, 2017 by Greenier1 from Australia

Listened to few of Jen's podcasts, great interviews with very generous and useful discussions. Not preaching but informative.

This Girl Knows Money!

March 24, 2017 by ttkmt from United States

I love that Jen gets right to the heart of what really matters when it comes to money... no fluff- just Real. Actionable. Advice!

Podcast Guest Booker/ Writer

February 24, 2017 by Karen Cordaway from United States

This is one of my favorite shows. It's clear that Jen provides a safe space for women to ask questions and better their financial situations. Her show is both entertaining and informative. There's also warm, genuine vibe that comes through. It makes you feel like you're in good hands.

Great stuff!

February 23, 2017 by DavidR630 from United States

I love financial education. And I love quality financial education sources even more. This is one of those sources. Thanks Jen for all your hard work.

Ready to get motivated?

January 5, 2017 by PT Money from United States

Don't listen to this show unless you're ready to get motivated to improve your financial life. Jen's a master of her money and so relatable in her style and interviews of guests. Such a great show!

Learning so much

December 8, 2016 by ChErIeR4 from United States

Ok I'am learning so much and getting so inspired. By what I hear. I have a general knowledge of money mgmt. But this lady has guest that are practical, relatable, and still amazing. I'm so glad I found this one.

Love this podcast

October 28, 2016 by Jessica Moorhouse from Canada

Jen is an amazing host, always has such great guests, and what's not to love about a podcast all about women & money!

HMM70 Krista Wells

October 8, 2016 by MoneyMaven Pam from United States

Jen, Thank you for bringing all of your amazing guests to your audience. This episode was especially really interesting for me. Dr. Wells had a wonderful money role model in her dad and the story fascinated me. Love how you asked about her challenges, money story and brought her story to life. Great job, I'm looking forward to more podcasts!

Inspiring and Helpful for Anyone

October 8, 2016 by JosephHogue from United States

Could be His Money Matters too because some great advice that transcends the sexes. Started listening to it recently and now my wife is hooked as well.

Her Money Matters

August 25, 2016 by BETRU from United States

As a single woman, with no support system when it comes to finances, I am finding your podcasts very helpful and informative as they address women's relationship with money, our attitudes, struggles and fears toward it. This is making a difference. Thank you.

The Heart of Money Matters

August 2, 2016 by Kayti Doo from United States

I look forwarrd to Jen's podcast every week! Jen's interviews are fresh, raw and motivating. I love how she doesn't just talk to guests about practical money skills and budgeting. She gets at the heart of the matter by discussing money mindset and personal money stories. Thanks Jen for sharing your knowledge and work.

Genuine voice

June 30, 2016 by HolisticHilda from United States

I've just started listening and the one thing that grabbed me right away was Jen's authentic voice. You can tell she really wants to help us all get a handle on our money and get the most out of life. Keep up the good work, Jen! You are making a difference! And happy anniversary!

Very informative

June 21, 2016 by Guneration2 from Canada

Great podcast, great guests, great topics and a great host.

Love this podcast!

February 4, 2016 by Shannon LMI from United States

Jen's podcast is so great because it's REAL. She doesn't beat around the bush with money topics - but she also keeps the conversation light and fun. Listen in if you're looking for some real, relatable, and fun money advice!

Real, authentic, valuable.

January 25, 2016 by Hilary Hendershott from United States

Jen is such an important voice in the sisterhood of women who are supporting other women to rise up and take control of our money. She's relatable and compassionate, and takes great care to create a show that's full of good technical content as well as encouraging content about how women can manage the emotions that come along with money. As a fellow podcaster, I really respect what Jen is doing and you won't be disappointed with this show!

Inspiring show!

January 7, 2016 by MichaelVerdicchio from United States

Love Jen's guests and questions. She is inspiring, challenging and the perfect find for the new year!

Super fun and informative!

November 15, 2015 by Mabelle 25 from United States

I came accross Jen's podcast a few months back after being connected through a Facebook group we are both part of. I am one of those people completely obsessed with personal finance topics as well as general "money matters" but I am very selective with the kind of content I read and listen to. After all, time is limited! This is one of those shows I'd highly recommend. Jenn is super fun and transparent in all of her episodes. She also has guest that offer tons of value to the listener while also offering practical steps to improve finances. I love that she has her own episodes in addition to bringing on guests. All in all, great content. Keep up the great work!

Five stars to a wonderful podcast

November 14, 2015 by RobinfromYazoo from United States

Thank you, Jen, for giving me hope in a dark time. You are an angel.

Informative, Entertaining Money Talk

October 28, 2015 by HappinessMama from United States

I love this podcast about money from Jen Hemphill. With her warm, engaging style, she brings fantastic helpful information about money in a respectful and relatable way. I highly recommend it.

I love talking money!

September 26, 2015 by adorison from United States

This show is empowering and full of incredible content! No one is going to care more about your money than you will and Jen really gives great tips and insight to help us do just that! Love this podcast!

Inspiring and enlightening!

August 15, 2015 by grohiit from United States

I love your show and really enjoyed your interview with Ilean Harris. I found myself reflecting on the points Ilean made about investing in yourself and that by envisioning the lifestyle we want, we aren't a slave to money – rather, it becomes a tool for us to use to enjoy what we love in life. I really like listening to Her Money Matters for the interviews, as well as your personal takeaway at the end of each episode. Keep up the awesome work!

Great Show!

August 14, 2015 by Elite Eliza from United States

Jen has the ability to make you feel like she's your real life friend who just happens to be a money professional. I really enjoy this podcast and Jen's take on money matters. The interviews so far have been great as well, I look forward to the future guests!

Great show!

August 11, 2015 by Jen Hatzung from United States

Jen does such a great job of talking about money in a way that is relatable and doesn't feel like a lecture! So glad she decided to start this podcast and have women talking about money! Great job, Jen!

Must Listen

July 2, 2015 by Elle Martinez from United States

Jen is a warm and knowledgeable host. Her podcast is motivating and fun to listen to!

Why You Should Listen to This Show

July 2, 2015 by Danieaton from United States

The HMM podcast is a straightforward money/finances/budgeting show with a special twist to focus on moms who are taking care of their families and their businesses. Jennifer Hemphill is such a warm, friendly and likeable host. She can take the sticky money matters and lessen the uneasiness that some of us feel about our talking about our finances!

A

June 30, 2015 by Ashley K2914 from United States

Very glad I came across you and your podcasts! Loved you getting to know the real you from your first podcast. I definitely feel the guilt and feeling overwhelmed when it comes to "money talk". I would love to see more podcasts about creating a budget. I have created a budget in the past but only been able to stick to it for a couple months and then because it wasn't a very quick and simple system I got busy with life and stop focusing on it. Help!

Awesome content!!

June 26, 2015 by Carly Popp from United States

So glad I found this podcast!!! I need all the help I can get when it comes to finance and Jen does an amazing job talking about it in a way that I can understand. She is really fun to listen too! Can't wait for more episodes!!!

A fresh look at budgeting and financial matters!

June 23, 2015 by Learn & Grow from United States

Jen is a great host and the content is golden! Thanks for sharing so much value. Can't wait to see what's coming up on future episodes.

Jen really knows her stuff when it comes to Money Matters

June 16, 2015 by Ben @ Authority Engine from United States

I love the podcast that Jen has put together and am very excited for ladies to get their hands on it. Jen's approach to confidence in finances WILL change the way you think about money, and set you up for the financial freedom you've always wanted. Love the new show Jen!

Fantastic content and fresh perspective!

June 16, 2015 by ryetaylor.com from United States

There are a few shows out there that give you great content, and then others that give you a great host, but there are very few that give you the one two punch! Jennifer Hemphill brings valuable advice and a fresh perspective to Money while staying approachable and fun. Well done!
---
Want to leave a review?
That would be a huge compliment + you would be helping us impact more women around the world.
Subscribe, Rate and Review the show in iTunes.  (It's easy here's how)
More Her Dinero Matters Resources