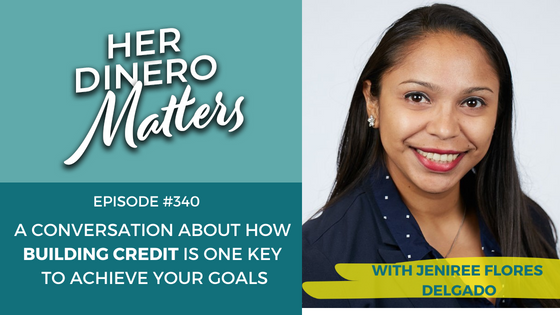 How important do you think building credit is in achieving your goals? How much of an impact do you think learning from other people's experiences will have on your goals? Do you believe becoming a professional requires getting into debt because of the additional education? Grab your popcorn and listen to this episode where our guest shares her experiences with all of this (and yes there is a reason why I'm saying you should grab your popcorn).
Unfortunately, many of us became aware of the importance of good credit as adults, don't get me wrong — it's never too late! We also have beliefs that simply aren't true, like debt is unavoidable when pursuing a profession needing higher education.
Jeniree Flores's story shows that it is possible to alter negative beliefs, become successful without taking on debt, and stick to habits that will help establish credit, among other things.
Dr. Flores is a polymer chemist, author of a patent and of more than half a dozen peer-review publications. She became a podcaster with the launch of Latinx Can, a podcast highlighting the stories of Latinx professionals and the tips and tricks that helped them turn their dreams into reality.
What you'll learn about in today's episode:
The importance of having an emergency fund
Tips on how to build good credit
How you can benefit from scholarships for graduate studies
Listen to the Episode Below
You can also watch or listen on YouTube!
Resources from this episode:
Connect with Jeniree Flores Delgado here
Listen to Jeniree interview me on LatinXCan
Related Her Dinero Matters episodes you may enjoy:
#275 – Massive Direct Ways Crediverso is Bridging the Gap With Credit
#321 – The Tradeoff That Taught Her How to Use a Credit Card Responsibly
☕️☕️☕️☕️☕️☕️☕️☕️☕️☕️☕️☕️☕️☕️☕️☕️☕️☕️☕️☕️☕️
Get involved in our community:
Join the conversation in our community on Facebook: jenhemphill.com/community


Want to get social? Let's connect more on Instagram @jenhemphill
Enjoy the Show?
Be sure to never miss an episode by hitting the subscribe or follow button on your favorite podcast app! Get instant notifications of the latest episodes now!
Be sure to share with a friend (or two)! You never know what someone is going through in their financial life. Here is a tweet you can share now:
If you listen on Apple Podcasts you can review THERE. If not you can go HERE to review on Podchaser! THANK YOU!
Have Feedback?
Send us feedback via email to support@jenhemphill.com or click here to leave a voicemail.
The post, A Conversation About How Building Credit is One Key to Achieve Your Goals | HDM 340 appeared first on the Her Dinero Matters Podcast.