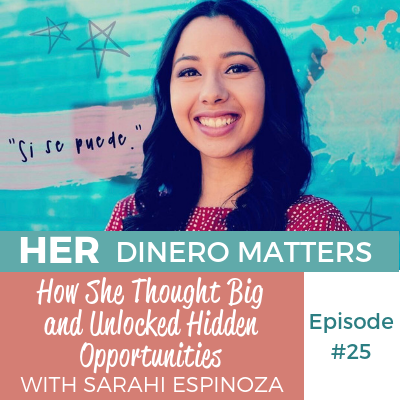 When life hits we need to look at the hidden opportunities. This involves having an open mind for different possibilities and solutions to whatever life throws at you.
Imagine yourself in your senior year of high school where you are exploring different colleges. You get to the financial part of applying for financial aid and scholarships and you hit a roadblock.
This was Sarahí Espinoza's scenario as a former undocumented student. Due to this hardship she set out to minimize the barriers for others who were facing a similar situation.
What you'll learn about in today's episode:
Her upbringing in Mexico and differences she saw in the perception of money when she came to the U.S.

The shock she experienced when applied for college admission and what she did about it

The financial impact she is creating with the work she is doing with the Dreamers RoadMap app
Resources From This Episode:
Sarahí on Instagram: @sarahisalamanca1
I want to hear from you!  What was your favorite takeaway from this episode? Please come on over to our community and share with us there.
You can join our community (and receive our weekly newsletters) by grabbing The Daily Dinero Ritual!
Abrazos + Much Love,
Jen
P.S. ¡GRACIAS por escuchar! THANKS for listening!
The post, How She Thought Big and Unlocked Hidden Opportunities (with Sarahí Espinoza) | HDM 25 appeared first on the Her Dinero Matters Podcast