I can show you how to have more money confidence and simplify your money so you can get out of debt more quickly, save more, AND get excited each time you sit down to manage your money.
Money can be stressful and messy, but it doesn't have to be like this!
I know you're a woman with big aspirations and nothing will stop you in achieving your dreams.
Lately though, this part has been blurry and it has been causing some self-doubt, que no es bueno. You want control of your financial life but you don't feel in control at this very moment.
You know you're smart, fiercely independent and a real queen (reina). A reina determined for her family to experience more financial freedom.
So what GIVES?
It can feel like an uphill battle at times because you're more than willing to DO THE WORK.
**ahem** You HAVE been doing the work.
You have done all.the.things but not much seems to change.
The fact is… there are just some things you just can't do alone and there is nothing to be embarrassed about.
PLUS, all the information you have googled about taking control of your finances still misses the one critical component that is keeping you stuck (more on that a little later).
Feeling overwhelmed and not knowing where to start just gets in the way, and you need a little more support and accountability without feeling judged for a real transformation.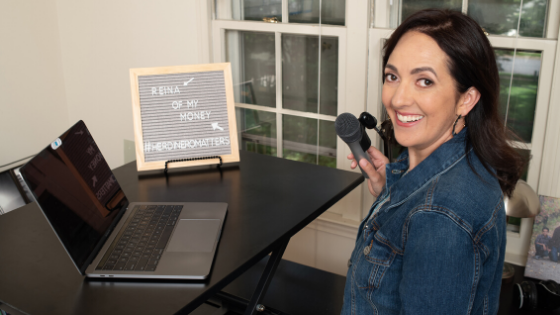 Simplifying, making money doable, and gaining money confidence is my specialty

 

🙌🏼. 
Reina, I see you. Hola 👋🏼 I'm Jen Hemphill. You probably want to know if I am equipped to help you (I applaud you doing your due diligence by the way 👊🏼).
Yours truly has been fortunate to…
Why you can trust me to help you make a change in your financial life.
I know all about what you're going through (and I am not just saying that).
Ten years ago I was you.
I had done all.the.things I had read a ton of personal finance books and implemented their advice.
I even took an extra step and became an AFC® for which you undergo rigorous training. Even with all the financial knowledge I still found our family in debt, our emergency savings depleted (again), and having borrowed from our retirement a few times.
I felt a lot of shame and guilt because I was supposed to be a smart woman (who read finance stuff all the time).
On top of that my husband and two boys relied on me to manage the finances.
What was I missing?
Something had to give and fortunately after some soul searching (**ahem** asking myself some questions) I discovered the missing piece- my money story.
Once I discovered the power of my money story I knew I had to share this with others, especially knowing how much it transformed our finances.
I didn't want any woman doubting their intelligence nor feeling embarrassed or guilty about their current financial situation.
Financial education is already scarce and when it is taught, the importance of our money story isn't included 🤦🏻‍♀️.
After discovering how my past money had kept me stuck I was able to stop being overwhelmed and fearful, started having more money confidence and took complete control of our money.
I want this for you too.
Are you ready to say adiós to that overwhelm and improve your financial life?
If you're ready to experience an increased control on your finances in a way that you have more confidence, let's talk.