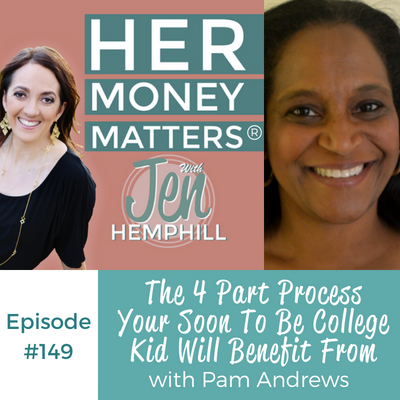 How would it feel if you or your child received $700,000 in scholarships? Fantastic, right? The is what Pam Andrews (aka The Scholarship Shark) was able to do for her son.
In this episode you will get to know her and her 4 part process she puts into action for each student she helps!
Listen to the Episode Below
What You'll Learn In Today's Episode:
The lesson learned from making decisions based solely on security and what emerged from it

The four layers to her process in helping students not just get scholarships but get accepted into the colleges of their choice

Three tips you can implement towards helping your child when it comes to college costs

The mistake to avoid that will save you money and tears when seeking that funding for college
Pam's Money Story
Pam's parents divorced when she was very young. Because of this she grew up in a single parent household. During her own childhood, Pam's mother grew up learning to take the 'safe' route when it came to a career. When Pam's mother realized she did not have the stomach to become a nurse, she opted to be a teacher instead. As a result, Pam also grew up aiming for the 'safe' job. During her first internship as an electrical engineer, Pam realized she did not enjoy her work, yet still graduate with an engineering degree. She felt stuck she had no choice but to choose the high paying job (that she did not enjoy) because of her student debt.
As a child Pam had longed to become a professional dancer, but due to her mindset she never pursued dancing as a career. Pam wanted a different story for her children; she supports what interests them and what they love. Pam did manage to live some of her dream of dance about 11 years ago, however, when she taught a Zumba fitness class for a short time.
Why Pam Pursued a Career in Attaining Scholarships
Pam's interests in the enrolment/scholarship process started years ago when she first met her husband in church. At the time, Pam thoroughly enjoyed working with kids and helping them with their enrolment and scholarship paperwork. She later helped her own son win $700 000 in scholarships, which got the attention of many other families. She started by writing a book, and later began her career helping individual students achieve their scholarship goals directly.
Pam's Process
Scholarship application is a scientific process, as there are things you can do that will have a definite outcome. To maximizes these outcomes, Pam created an iceberg shaped process. Process is in an iceberg, the largest part being what cannot be seen.
(Underwater)
– Mindset (the very bottom): One of the exercises Pam walks her students through is writing down their academic/scholarship dreams. Most often then not the students play small. This exercise is used to walk the students through myths and handling rejection.
– Process (under the surface): Going through what must be done each year.
(Water level)
– System (right above water level): Step-by-steps of application.
– Tools (tip of iceberg): The tools used to make everything work: websites, applications, etc.
To describe the types of funding available, Pam uses a cake metaphor. The first cake layer represents the institutional aid. This includes funding provided directly from the school, whether it be an enrolment scholarship, or a program scholarship. The second layer of cake represents the private money. This includes big companies, banks, etc. Pam stresses that getting in is not the only way to obtain funding. The majority of Pam's clients simply do not know where to start when it comes to the scholarship process. On average, students earn 70% of their total college tuition by working with Pam.
Pam's Top 3 Tips: SOS
These tips go farther then just college and scholarships.
Strategize: Have a strategy in place. Know exactly where you are going and how you are going to get there.

Organize: Early on understanding time management, study skills, organization skills, and some of the tools to make the process work.

Systematize: Step-by-step. Makes the entire process easier, be prepared for the long haul.
In Pursuit of College
To help explain the process of getting into college, Pam created a board game. The purpose of In Pursuit of College is to graduate from high school with enough money to cover at least one year of college at your dream school. Pam used real scholarships for her game, complete with information on each card on where to apply for said scholarships. She also named many of the schools in her game after her current clients. In Pursuit of College is complete with definitions and rules, to ensure the players grasp a better understanding of the scholarship process, and their mindset.
Pam's family was always big on board games. When the idea first came to mind, Pam made a makeshift version of In Pursuit of College to play with her kids using pieces from other board games. Eventually, Pam began to research game making companies, and also asked her son to ask officials at his school about certain application processes. After mapping out the whole game on paper and beta testing it with other students, Pam got the game manufactured for anyone 12 and up.
Resources From This Episode:
Pam is being super generous and offering a special discount off her board game just for you! Check it out: In Pursuit of College Board Game
I want to hear from you!  What was your favorite takeaway from this episode? Please come on over to our community and share with us there.
You can join our community (and receive our weekly newsletters) by grabbing The Daily Dinero Ritual!
Abrazos + Much Love,
Jen
P.S. THANK YOU for listening!
Enjoy The Show?
Be sure to never miss an episode:
Share with a friend by using the social media icons below.
Send us feedback via email to support@jenhemphill.com or click here to leave a voicemail.
**Please note I love to give shout-outs to my listeners, so if you'd rather me not mention your email message or play your voicemail on the show be sure to clearly state that, thank you!**
The post, HMM 149: The 4 Part Process Your Soon To Be College Kid Will Benefit From With Pam Andrews appeared first on the Her Money Matters Podcast.