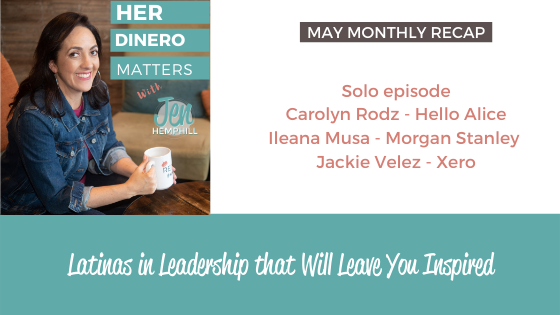 This month on the podcast we have four episodes for you where we highlight Latinas in leadership. All episodes bring skills, and different perspectives that will drive effective solutions you can apply to become financially independent in life or business.
If you listen to these four episodes you will gain confidence, a growth mindset and open your mind to technology, and most importantly embrace the power of Latinas in leadership.
Quick Recap
Here is what we covered this month on Her Dinero Matters Podcast:
Episode #264 –
"
3 Painful but informative Discoveries I Made About College Costs
"
In this episode, you heard several reasons contributing to why college is so expensive and the 3 things I am struggling with when it comes to navigating this new phase. If you are a mother of a soon-to-be college kid or maybe you already have been through this situation and you can relate to this episode.
To listen to this episode click here.
Episode #265 –
"
Unique ways Hello Alice helps and Transforms Small Business Owners
"
Carolyn Rodz, one of the founders of Hello Alice, shares her top tips for small business owners and the best practices for crowdsourcing. She also shares how Hello Alice can help small business owners.
To listen to this episode click here. 
Episode #266 –
"
Her Direct Reasons for Wanting Latinos to be Financially Independent
"
Ileana Musa, Co-Head of International Wealth Management, shares with us her personal mission to help the next generation of Latinos achieve financial independence and equity, and her take on Latinx generational wealth.
To listen to this episode click here. 
Episode #267
"This is What you Need to Know About Technology and Latino Small Business Owners"
Jackie Velez, Director of the US Hispanic market at Xero, shares the top mistakes Latino small business owners make. She also shares with us what Xero is and how they are helping Latino small business owners.
To listen to this episode
click here.
Abrazos + Much Love,
Jen
P.S. Also, you don't want to miss Financially Strong Latina – La Membresía. For all of those financially strong women who want to keep learning and taking control of their finances here is what you were asking for: JOIN HERE!
P.S.S. Follow us on your favorite podcast player and review! If you listen on Apple Podcast you can review there. If not you can go HERE to review on Podchaser! THANK YOU! 😉
You can join our community (and receive our weekly newsletters) by grabbing The Daily Dinero Ritual!
Have Feedback?
Send us feedback via email to support@jenhemphill.com or click here to leave a voicemail.