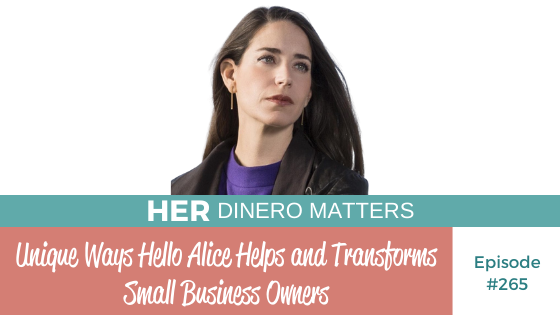 Are you an entrepreneur trying to figure the path by yourself? Entrepreneurship is a special adventure, it requires sacrifice, determination, and resilience. It is not easy to be small business owners which means being your own boss, calling all the shots, hustling to hit your goals, and sometimes learning things on your own by trial and error. The best thing to do is find useful resources, guidance, and community to reach your goals more effectively and keep growing.
 In this episode, Carolyn Rodz, shares with us the impact her entrepreneurial family had on her career. She also shares how Hello Alice can help small business owners and her best practices for crowdsourcing.
 As founder of Alice, the intelligent business advisor for entrepreneurs, Carolyn Rodz serves as an advocate for inclusive entrepreneurship. Carolyn works alongside governments, corporations, foundations, and ecosystem builders to connect women, minorities, veterans, and other underrepresented entrepreneurs to the capital, resources, mentors, and partners needed to fuel their growth.
What you'll learn about in today's episode:
The impact her entrepreneurial family had on her career

How Hello Alice can help small business owners

Her top tips for small business owners

Best practices for crowdsourcing
Listen to the Episode Below
Want To Listen To Certain Parts Of The Episode?
Hover Over The Minute Mark Below And It Will Take You To That Part Immediately. 🙌🏽
↳ A point in time that was pivotal as to how Carolyn saw money. [3:29]
↳ Where the inspiration came to be for Hello Alice. As well as behind the scenes to the name. [7:56]
↳Hello Alice's primary mission. [11:12]
↳How can the Latinx small business owner make best use of Hello Alice. [12:20]
↳The one thing Carolyn wishes more people were aware of when it comes to how Hello Alice can help as well as something she is really proud of. [13:29]
↳What Carolyn has learned about Latinx women business owners through this pandemic. [16:57]
↳Carolyn's best practices for crowdfunding. [22:19]
↳The number of Latinx businesses that Hello Alice has assisted to date. [24:28]
↳Carolyn's top tips for small business owners. [26:21]
↳The difference between a start-up and a small business. [28:46]
Resources From This Episode:
Hello Alice website: helloalice.com
I want to hear from you! What were your thoughts on this conversation? Do you have more questions about this episode? Text me the word "listener" to +1 (202) 918-5197 and I will personally text you back!
For all of those financially strong women who want to keep learning and taking control of their finances here is what you were asking for! Financially Strong Latina – La Membresía enrollment now open.  JOIN HERE! 
Follow us on your favorite podcast player and review! If you listen on Apple Podcast you can review there. If not you can go HERE to review on Podchaser! THANK YOU! 😉
You can join our community (and receive our weekly newsletters) by grabbing The Daily Dinero Ritual!
☕️☕️☕️☕️☕️☕️☕️☕️☕️☕️☕️☕️☕️☕️☕️☕️☕️☕️☕️☕️☕️
I want to hear from you!  What was your favorite takeaway from this episode? Come on over to @Jenhemphill on Instagram and share it with us there.
Abrazos + Much Love,
Jen
P.S. ¡GRACIAS por escuchar! THANKS for listening!
Enjoy the Show?
Be sure to never miss an episode by hitting the subscribe or follow button on your favorite podcast app! Get instant notifications of the latest episodes now!
Be sure to share with a friend (or two)! You never know what someone is going through in their financial life. Here is a tweet you can share now:
Have Feedback?
Send us feedback via email to support@jenhemphill.com or click here to leave a voicemail.
The post, Unique Ways Hello Alice Helps and Transforms Small Business Owners | HDM 265 appeared first on the Her Dinero Matters Podcast.