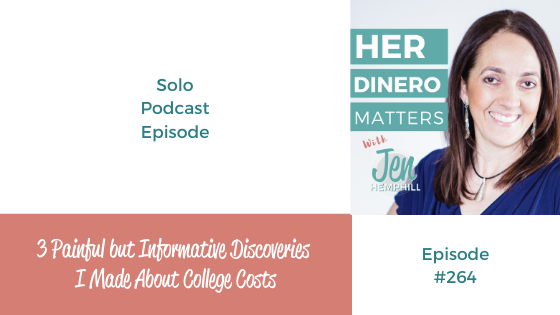 Are you a mother of a soon-to-be college kid?
Or maybe you already have been through this situation and you can relate to today's episode. As a parent, we want to be the guide of our kids during this process, but navigating the college process is not simple, and you might find yourself facing a learning curve. The college process can be stressful for everyone involved. Communication between your kid and you is vital as well as having an open mind about college costs and keeping learning with them.
In this episode, I share with you my own learning experience in this college process with my son. 
What you'll learn about in today's episode:
Why I had some serious price sticker shock

Several reasons contributing to why college is so expensive (I did some research)

The 3 things I am struggling with when it comes to navigating this new phase
Listen to the Episode Below
Want To Listen To Certain Parts Of The Episode?
Hover Over The Minute Mark Below And It Will Take You To That Part Immediately. 🙌🏽
↳My experience in navigating the college process with my son.  [2:56]
↳The onset of the serious price stickers shock. [5:05]
↳The reasons I found as to why college so expensive. [6:06]
↳The three things I am personally struggling with this process. [13:20]
↳Why I couldn't be a Financial Aid Officer. [16:32]
↳My struggles with the EFC (Estimated Family Contribution). [18:34]
↳The tricky parts I learned about with aid and grants. [21:32]
Resources From This Episode:
Articles referenced in today's episode:
↳ Forbes: A New Study Investigates Why College Tuition is So Expensive
↳ EducationData.org: Average Cost of College & Tuition
↳ Indeed.com: What Is the Average Salary for College Graduates?
↳ NBC News: Biden's Higher Education Plan Aims to Ease Student Loan Debt
↳ Studenloanhero.com: Expected Family Contribution Financial Aid
↳ Savingforcollege.com: What is the Net Price?
For all of those financially strong women who want to keep learning and taking control of their finances here is what you were asking for! Financially Strong Latina – La Membresía enrollment now open.  JOIN HERE! 
Follow us on your favorite podcast player and review! If you listen on Apple Podcast you can review there. If not you can go HERE to review on Podchaser! THANK YOU! 😉
You can join our community (and receive our weekly newsletters) by grabbing The Daily Dinero Ritual!
☕️☕️☕️☕️☕️☕️☕️☕️☕️☕️☕️☕️☕️☕️☕️☕️☕️☕️☕️☕️☕️
I want to hear from you!  
Want to add to the conversation text LISTENER  +1 (202) 918-5197 let me know what you want to add and I will personally text you back!
You can also come on over to @Jenhemphill on Instagram and share it with us there.
Abrazos + Much Love,
Jen
P.S. ¡GRACIAS por escuchar! THANKS for listening!
Enjoy the Show?
Be sure to never miss an episode by hitting the subscribe or follow button on your favorite podcast app! Get instant notifications of the latest episodes now!
Be sure to share with a friend (or two)! You never know what someone is going through in their financial life. Here is a tweet you can share now:
Have Feedback?
Send us feedback via email to support@jenhemphill.com or click here to leave a voicemail.
The post, 3 Painful but Informative Discoveries I Made About College Costs | HDM 264 appeared first on the Her Dinero Matters Podcast.