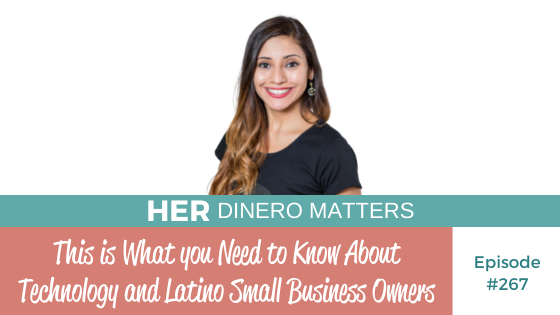 Are you a Latino small business owner and you are afraid of the technology? There is no secret that over the past year technology has played a vital role in the growth and efficiency of a lot of businesses, but it's also true that small companies are rarely the first to open the door to new technologies. That is understandable because most small business owners don't have the time or resources to experiment with it. It's up to you to decide whether to include technology in your business or not, but you need to have an open and clear mind to know exactly what your company needs.
In this episode, the phenomenal Jackie Velez, the Director of the US Hispanic market at Xero, shares with us her money story and what she learned about stretching the dollar. She also shares what Xero is and the financial challenges a Latino small business owner faces.
What you'll learn about in today's episode:
What she learned about stretching the dollar from living in a 2 bedroom duplex with her family

The top mistakes Latino small business owners make

What Xero is and how they are helping Latino small business owners
Listen to the Episode Below
Want To Listen To Certain Parts Of The Episode?
Hover Over The Minute Mark Below And It Will Take You To That Part Immediately. 🙌🏽
↳Jackie's money story [2:59]
↳What she learned about stretching the dollar [4:40]
↳Her concern about security in her career journey [10:15]
↳What led her working at Xero and her specific role at it [13:15]
↳What Xero is and how they are helping Latino small business [18:13]
↳Xero's experience with Latino resistance [19:56]
↳The most common questions asked by Latino small businesses [21:41]
↳Some Financial challenges  a Latino small business owner faces [24:58]
↳A word from Jackie to all Latino small business owners that are experiencing some resistance in to be open to technology [27:47]
↳Xero's Latino small businesses trends [29:36]
Resources From This Episode:
If you loved this episode with Jackie, make sure to connect with her on Linkedin, Jackeline Velez
To learn more about Xero click here.
For all of those financially strong women who want to keep learning and taking control of their finances here is what you were asking for! Financially Strong Latina – La Membresía enrollment now open.  JOIN HERE! 
Follow us on your favorite podcast player and review! If you listen on Apple Podcast you can review there. If not you can go HERE to review on Podchaser! THANK YOU! 😉
You can join our community (and receive our weekly newsletters) by grabbing The Daily Dinero Ritual!
☕️☕️☕️☕️☕️☕️☕️☕️☕️☕️☕️☕️☕️☕️☕️☕️☕️☕️☕️☕️☕️
I want to hear from you!  What was your favorite takeaway from this episode? Come on over to @Jenhemphill on Instagram and share it with us there.
Abrazos + Much Love,
Jen
P.S. ¡GRACIAS por escuchar! THANKS for listening!
Enjoy the Show?
Be sure to never miss an episode by hitting the subscribe or follow button on your favorite podcast app! Get instant notifications of the latest episodes now!
Be sure to share with a friend (or two)! You never know what someone is going through in their financial life. Here is a tweet you can share now:
Have Feedback?
Send us feedback via email to support@jenhemphill.com or click here to leave a voicemail.
The post, This is What you Need to Know About Technology and Latino Small Business Owners | HDM 267 appeared first on the Her Dinero Matters Podcast.