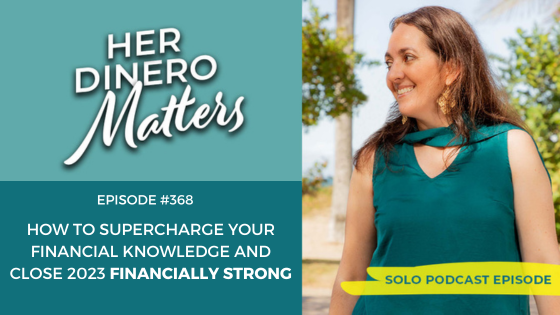 There are 3 months left in 2023 – how are your finances? Close 2023 financially strong with this one simple step. Find out what this step is in this solo episode!
Financial Strong Latina® (FSL) is back in November! This virtual event provides Latinas financial knowledge, community, and confidence. Over the years, FSL has proven Latinas are eager to improve their money management when learning from shared experiences.
In this episode, you'll get the inside scoop on Financial Strong Latina® 2023!, You'll discover what's new this year, hear inspiring stories, and find out how you can register and bring friends. Y eso no es todo!!! Tambien nos acompaña Veronica Segovia Bedon from AARP, this year's exclusive sponsor, who is going to share with us her thoughts and what else you can look forward to when joining us.
Are you ready to supercharge your financial knowledge and close 2023 financially strong?
What you'll learn about in today's episode:
How Financial Strong Latina is going to supercharge your financial knowledge so you can finish off 2023 in a big way.
What is different this year and what you can expect.
What exact topics are going to be discussed which will inspire and empower you with new actionable insights.
Listen to the Episode Below
You can also watch on YouTube!
Resources from this episode:
Grab your spot and join us for this year's event. Get all the details here: financiallystronglatina.com
Get to know Linda Garcia in this episode
Get to know Rita Soledad Fernandez in this episode
Get to know Natalie Torres-Haddad in this episode
Get to know Nestor Vargas in this episode
Get to know Andrea Rotondo in this episode
☕️☕️☕️☕️☕️☕️☕️☕️☕️☕️☕️☕️☕️☕️☕️☕️☕️☕️☕️☕️☕️

Get involved in our community:
Join the conversation in our community on Facebook: jenhemphill.com/community


Want to get social? Let's connect more on Instagram @jenhemphill
Enjoy the Show?
Be sure to never miss an episode by hitting the subscribe or follow button on your favorite podcast app! Get instant notifications of the latest episodes now!
Be sure to share with a friend (or two)! You never know what someone is going through in their financial life. Here is a tweet you can share now:
If you listen on Apple Podcasts you can review THERE. If not you can go HERE to review on Podchaser! THANK YOU!
Have Feedback?
Send us feedback via email to support@jenhemphill.com or click here to leave a voicemail.
The post, How to Supercharge Your Financial Knowledge and Close 2023 Financially Strong | HDM 368 appeared first on the Her Dinero Matters Podcast.