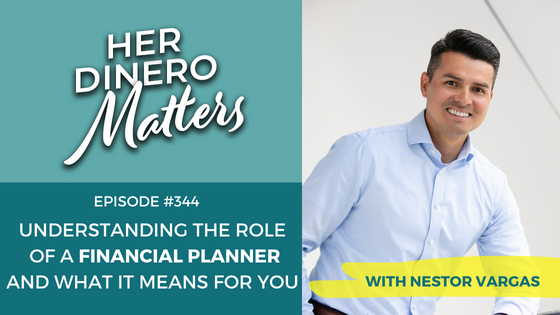 Tired of believing financial planning is only for the wealthy? In this episode, you'll learn how everyone can have access and benefit from a professional financial planner. And that wealth building? It doesn't have to wait anymore.
Would you like to learn how to invest and save more money to help your long-term financial planning? Of course, we all do.
All of this is possible, but only if you learn it from an expert who can guide you to make the most of your money. Understanding what role a financial planner has is key in this. Building wealth is not difficult; you just need to find and follow some good guidance.
Nestor Vargas is such an example to follow. He is a Certified Financial Planner and owner of the financial planning firm Green Mountain Planning. He has been committed to providing the necessary resources for the Latino community to get more involved with improving their finances by using the stock market.
What you'll learn about in today's episode:
Understanding what a fiduciary is and how it can be beneficial for you.
Learn about the role of a financial planner and how it can be affordable for you.
The percentage of Latinos in the United States that are using the stock market to create wealth.
Listen to the Episode Below
You can also watch or listen on YouTube!
Resources from this episode:
Connect with Nestor: @LatinoMoneyMan
My interview on Nestor's podcast: https://greencardstogreenbacks.com/ Title is Budgeting Resources for a Financially Healthier Latinx Life
Related Her Dinero Matters episodes you may enjoy:
#16 – Three Phases In Choosing a Financial Planner
#183 – How to Become a Financial Planner (and Why Latinos Should Care) with Joe Bautista
☕️☕️☕️☕️☕️☕️☕️☕️☕️☕️☕️☕️☕️☕️☕️☕️☕️☕️☕️☕️☕️
Get involved in our community:
Join the conversation in our community on Facebook: jenhemphill.com/community


Want to get social? Let's connect more on Instagram @jenhemphill
Enjoy the Show?
Be sure to never miss an episode by hitting the subscribe or follow button on your favorite podcast app! Get instant notifications of the latest episodes now!
Be sure to share with a friend (or two)! You never know what someone is going through in their financial life. Here is a tweet you can share now:
If you listen on Apple Podcasts you can review THERE. If not you can go HERE to review on Podchaser! THANK YOU!
Have Feedback?
Send us feedback via email to support@jenhemphill.com or click here to leave a voicemail.
The post, Understanding the Role of a Financial Planner and What It Means For You | HDM 344 appeared first on the Her Dinero Matters Podcast.