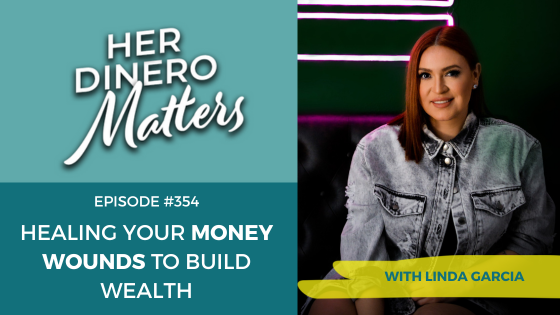 Would you believe me if I said that healing your money wounds should be a priority in order to build wealth, even before learning about personal finances? It's true, ignoring these issues can hinder your progress towards building wealth. Tune into this episode where you will learn what you can do so you can really focus on building wealth!
Don't let your money wounds hold you back any longer. Build wealth easier.
How can you achieve this? In today's episode, Linda García will share her wisdom and tips on how to do it all from real life experience.
Linda Garcia spent 17 years working in the TV and film industry before launching the Let There Be Luz podcast. Her spiritual journey inspired her life's purpose of aiding the Latinx community in healing generational money wounds. In 2020, she established a stock market course, and In Luz We Trust, a community of Latinx investors.
What you'll learn about in today's episode:
The meaning of "generational money wound" and how it prevents us from building wealth.
The story and meaning behind the name of Linda's book the Wealth Warrior that will have you wanting to learn more.
Three ways to earn money in the U.S. that drastically helps build wealth.
Listen to the Episode Below
You can also watch or listen on YouTube!
Resources from this episode:
Linda on Instagram: @luzwarrior
Linda's website: www.inluzwetrust.com
**Linda's book: Wealth Warrior: 8 Steps for Communities of Color to Conquer the Stock Market
**Please note the link is an affiliate link so I may receive a small commission if you purchase**
Related Her Dinero Matters episodes you may enjoy:
#339 – How to Build Wealth Even When You Don't Have Much
#262 – Her Ways to Empower Building Wealth as a Latinx Community
#230 – Building Wealth and the Beautiful Unexpected Changes with Adriana Flores-Ragade
☕️☕️☕️☕️☕️☕️☕️☕️☕️☕️☕️☕️☕️☕️☕️☕️☕️☕️☕️☕️☕️
Get involved in our community:
Join the conversation in our community on Facebook: jenhemphill.com/community


Want to get social? Let's connect more on Instagram @jenhemphill
Enjoy the Show?
Be sure to never miss an episode by hitting the subscribe or follow button on your favorite podcast app! Get instant notifications of the latest episodes now!
Be sure to share with a friend (or two)! You never know what someone is going through in their financial life. Here is a tweet you can share now:
If you listen on Apple Podcasts you can review THERE. If not you can go HERE to review on Podchaser! THANK YOU!
Have Feedback?
Send us feedback via email to support@jenhemphill.com or click here to leave a voicemail.
The post, Healing Your Money Wounds to Build Wealth | HDM 354 appeared first on the Her Dinero Matters Podcast.