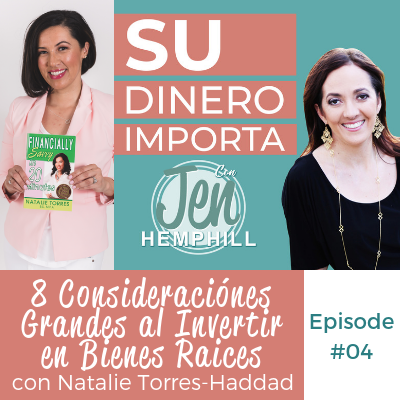 Investing in real estate (invertir en bíenes raices) can be a good decision in your financial life, but it is one where you really need to do a good job on your homework. If you don't you'll have to navigate some muddy waters which is why you should consider several key factors when investing in real estate.
Fortunately, we have the experienced real estate investor Natalie Torres-Haddad to learn from.
Listen to the Episode Below
What You'll Learn In Today's Episode:
8 essential tips to get you started in real estate investing

Her biggest influence into making a career in financial education

The substantial mistake we are making that impacts our financial future
Resources From This Episode:
I want to hear from you! What was your favorite takeaway from this episode? Please come on over to our community and share with us there.
You can join our community (and receive our weekly newsletters) by grabbing The Daily Dinero Ritual!
Abrazos + Much Love,
Jen
P.S. THANK YOU for listening!
The post, SDI 4: 8 Consideraciónes Grandes al Invertir en Bienes Raices con Natalie Torres-Haddad appeared first on the Su Dinero Importa Podcast