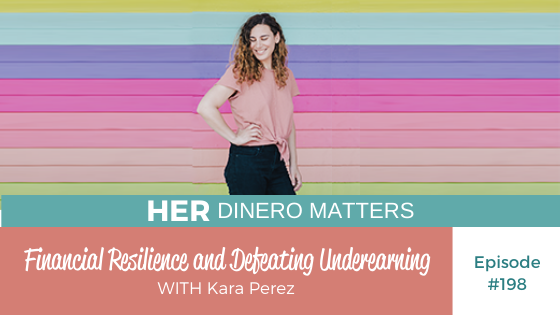 Financial resilience is having the grit to get through any financial challenges that is thrown at you.
If you have found yourself with an income that barely pays the bills and is not enough to get ahead in paying off your debt this episode is for you.
Kara Perez shares her story and how she financially resilient she was and so much more in this episode.
Listen to the Episode Below
What you'll learn about in today's episode:
Why she calls the summer of 2014 the summer of crying and cars

The different themes of what was a financial priority amongst her parents

Her thoughts behind the racial wealth gap
Resources From This Episode:
We Bravely Go on Instagram
Fill out the listener survey for a chance to win a $100 gift card! jenhemphill.com/podcastsurvey
Nominate a mujer (woman) for Reina of the Week here: www.jenhemphill.com/reinaoftheweek
Listen to this podcast on the Himalaya App and join the Cafecito Lounge! Use the code DINERO for a 30 day free trial.  
You can join our community (and receive our weekly newsletters) by grabbing The Daily Dinero Ritual!
☕️☕️☕️☕️☕️☕️☕️☕️☕️☕️☕️☕️☕️☕️☕️☕️☕️☕️☕️☕️☕️
I want to hear from you!  What was your favorite takeaway from this episode? Come on over to @HerDineroMatters on Instagram and share it with us there.
Abrazos + Much Love,
Jen
P.S. ¡GRACIAS por escuchar! THANKS for listening!
Enjoy The Show?
Be sure to never miss an episode:
Share with a friend by using the social media icons below.
Send us feedback via email to support@jenhemphill.com or click here to leave a voicemail.
The post, Financial Resilience and Defeating Underearning with Kara Perez | HDM 198 appeared first on the Her Dinero Matters Podcast.