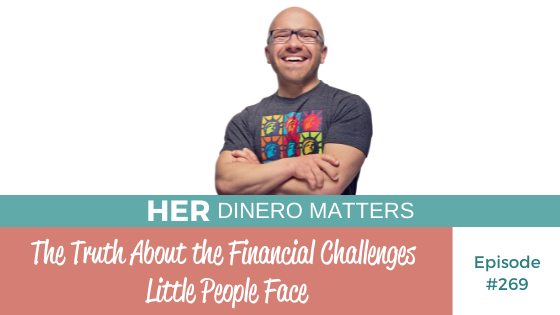 It's not a secret that when we want to move forward in our life and knock on the doors of new opportunities, many people tend to focus on how we look, our physique, race, etc. This is a reality all over the world, maybe you have experienced it. Little people as we will learn in this episode also experience these challenges as well as financial challenges we don't necessarily think about. It is good to have an awareness of these challenges so we better understand what little people deal with on a daily basis.   
 In this episode, the amazing Christophe Zajac-Denek shares with us several of his experiences/lessons in life around money and how his mother leads him to try new things. Also, he shares with us some of the financial challenges little people face. Christophe is a little person, podcaster, drummer, surfer, actor, and stuntman. Throughout his life, he's dealt with physical and social challenges as a result of his dwarfism.
What you'll learn about in today's episode:
The unique point system his mom had and what he learned from it

The story of when he moved to LA and only had $7 to his name

Some of the financial challenges little people encounter
Listen to the Episode Below
Want To Listen To Certain Parts Of The Episode?
Hover Over The Minute Mark Below And It Will Take You To That Part Immediately. 🙌🏽
↳Christophe upbringing and experiences/lessons he had around money [4:02]
↳The story on his mom getting him to try stuff and redeeming points [5:48]
↳Christophe career journey [7:55]
↳How he started his career as an actor with $7 to his name [11:51]
↳What kept him going [16:07]
↳Financial challenges for little people[19:34]
↳Christophe advice to all regarding little people [31:30]
Resources From This Episode:
Christophe's website: www.christophezd.com
Christophe's podcast: I'm kind of a BIG deal
For all of those financially strong women who want to keep learning and taking control of their finances here is what you were asking for! Financially Strong Latina – La Membresía enrollment now open.  JOIN HERE! 
Follow us on your favorite podcast player and review! If you listen on Apple Podcast you can review THERE. If not you can go HERE to review on Podchaser! THANK YOU! 😉
You can join our community (and receive our weekly newsletters) by grabbing The Daily Dinero Ritual!
☕️☕️☕️☕️☕️☕️☕️☕️☕️☕️☕️☕️☕️☕️☕️☕️☕️☕️☕️☕️☕️
I want to hear from you!  What was your favorite takeaway from this episode? Come on over to @Jenhemphill on Instagram and share it with us there.
Abrazos + Much Love,
Jen
P.S. ¡GRACIAS por escuchar! THANKS for listening!
Enjoy the Show?
Be sure to never miss an episode by hitting the subscribe or follow button on your favorite podcast app! Get instant notifications of the latest episodes now!
Be sure to share with a friend (or two)! You never know what someone is going through in their financial life. Here is a tweet you can share now:
Have Feedback?
Send us feedback via email to support@jenhemphill.com or click here to leave a voicemail.
The post, The Truth About the Financial Challenges Little People Face | HDM 269 appeared first on the Her Dinero Matters Podcast.