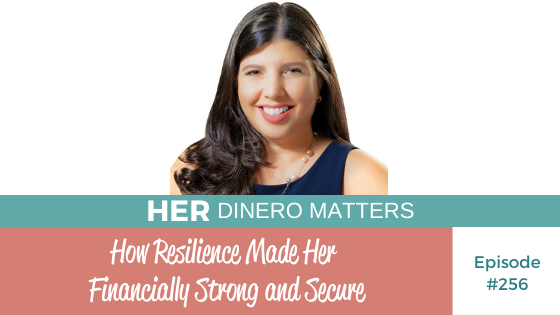 Have you ever felt like you are navigating in different directions and nothing seems to work? Bring in that resilience inside you to play when you are putting all your efforts towards your financial goal, things will happen. Every action or decision you take, even the smallest ones, will bring you one step closer to become financially strong(er). You may not notice it right away, but believe me, good things take time.
Tune in to today's episode with our wonderful guest, Mariely Sylvette. She shares some of her personal career and money lessons learned along the way. You will hear her share how resilience helped her to become a financially strong woman and grow her business. She also shares the financial impact of Hurricane Maria in Puerto Rico which no one talks about.
Mariely is a branding & marketing strategist who works with professionals and executives to re-define their personal branding and business objectives to land their most ideal clients and opportunities. 
Listen to the Episode Below
What you'll learn about in today's episode:
Her money story and the lessons she learned along the way

The path her career journey took and how it led to entrepreneurship

Behind the scenes look at the continued impact Hurricane Maria has had

The financial implications from Hurricane Maria and how she and others have navigated through this
Resources From This Episode:
Mariely on Instagram:  @MarielySylvette
Mariely's website: www.marielysylvette.net
Don't forget to register for Financially Strong Latina! CLICK HERE TO GRAB YOUR SPOT (it's FREE) thanks to the sponsorship of AARP.
One more thing! After you register,  please go to the Facebook event page here! Mark "going" and this will give more visibility so more women can be in control of their financial life. Be sure to share with your familia and amigas. Thank you!
You can join our community (and receive our weekly newsletters) by grabbing The Daily Dinero Ritual!
☕️☕️☕️☕️☕️☕️☕️☕️☕️☕️☕️☕️☕️☕️☕️☕️☕️☕️☕️☕️☕️
I want to hear from you!  What was your favorite takeaway from this episode? Come on over to @Jenhemphill on Instagram and share it with us there.
Abrazos + Much Love,
Jen
P.S. ¡GRACIAS por escuchar! THANKS for listening!
Enjoy the Show?
Be sure to never miss an episode by hitting the subscribe or follow button on your favorite podcast app! Get instant notifications of the latest episodes now!
Be sure to share with a friend (or two)! You never know what someone is going through in their financial life. Here is a tweet you can share now:
Have Feedback?
Send us feedback via email to support@jenhemphill.com or click here to leave a voicemail.
The post, How Resilience Made Her Financially Strong and Secure | HDM 256 appeared first on the Her Dinero Matters Podcast.