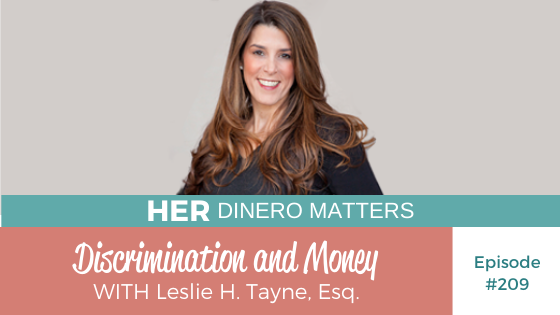 Discrimination and money. Discrimination is not a topic we necessarily think about when it comes to money, but it does happen. This is why I have invited Leslie H. Tayne, Esq. to discuss this topic of financial discrimination so we know what we need to look for and how to protect ourselves if we ever have to deal with this.
Listen to the Episode Below
What you'll learn about in today's episode:
How the Holocaust influenced her money story

The lesson she learned in her first marriage

What led her to practice law focusing on debt relief

The warning signs of discrimination and how it can show up in financial services
Resources From This Episode:
Visit the website of podcast guest Leslie H. Tayne, Esq. here: Tayne Law Group
Flex your financial resilience muscles and hone in on what you need to focus on in your financial journey right now with the free My Daily Money Ritual Worksheet which you can download here: My Daily Money Ritual
Check out the Her Dinero Matters Lounge HERE
Nominate a mujer (woman) for Reina of the Week here: www.jenhemphill.com/reinaoftheweek
☕️☕️☕️☕️☕️☕️☕️☕️☕️☕️☕️☕️☕️☕️☕️☕️☕️☕️☕️☕️☕️
I want to hear from you! What was your favorite takeaway from this episode? Please come on over to our community and share with us there.
Abrazos + Much Love,
Jen
P.S. ¡GRACIAS por escuchar! THANKS for listening!
Enjoy the Show?
Be sure to never miss an episode by hitting the subscribe or follow button on your favorite podcast app! Get instant notifications of the latest episodes now!
Be sure to share with a friend (or two), you never know what someone is going through in their financial life. Here is a tweet you can share now:
Have Feedback?
Send us feedback via email to support@jenhemphill.com or click here to leave a voicemail.
The post, Discrimination and Money with Leslie H. Tayne, Esq. | HDM 209, appeared first on the Her Dinero Matters Podcast.