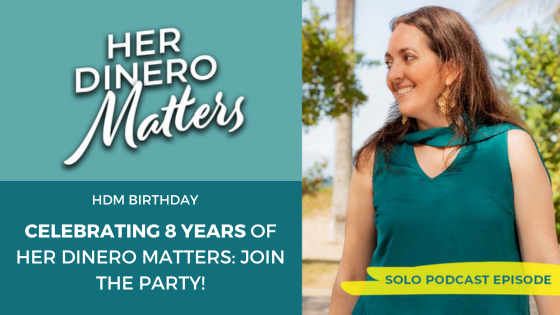 I am excited to announce that we are celebrating the Her Dinero Matters 8th birthday! Of course, this means we are celebrating you, because without your support, none of this would have been possible. To mark the occasion, each week this month we will release special episodes that take us down memory lane through the podcast's journey highlighting episodes that discuss money mindset, money actions and money skills.

We are also doing a giveaway! All the details are in today's episode don't miss it and share the fun with a friend, co-worker, family member or even a stranger.
Now, remember that being the Reina of your money starts at this moment simply by claiming it. I believe in you and so should you. 😉
Resources from these episodes:
Previous episodes referenced on episode "The Power Of A Positive Money Mindset"
#345 – How to Overcome an Unworthy Money Mindset
#285 – Simple Tips to Help You Transform Your Life and Your Money
#199 – Why It Pays Big to Believe, What You Need to Know
#12 – Las 3 Cosas Que Cambian con Gratitud y Cómo Afectan Nuestra Vida Financiera
#248 – How to Rewire Your Brain and Grow Your Money
Previous episodes referenced on episode "Talking About Money: The Most Challenging Money Action"
#52 – Key Conversation When Mixing Love and Money
#328 – 6 Tips to Help you Have the Money Talk with Your Family
#103 – What It Means To Work, Pause, Thrive With Lisen Stromberg
Previous episodes referenced on episode "The Key to Enjoying Your Money"
#342 – Why Reducing Expenses Isn't Always the Answer (and What to Do Instead)
#98 – How To Save Automatically With An Inconsistent Income
#36 – Super Simple Money management A Thing? This Is How It Can Be
☕️☕️☕️☕️☕️☕️☕️☕️☕️☕️☕️☕️☕️☕️☕️☕️☕️☕️☕️☕️☕️

Get involved in our community:
Join the conversation in our community on Facebook: jenhemphill.com/community


Want to get social? Let's connect more on Instagram @jenhemphill
Enjoy the Show?
Be sure to never miss an episode by hitting the subscribe or follow button on your favorite podcast app! Get instant notifications of the latest episodes now!
Be sure to share with a friend (or two)! You never know what someone is going through in their financial life. Here is a tweet you can share now:
If you listen on Apple Podcasts you can review THERE. If not you can go HERE to review on Podchaser! THANK YOU!
Have Feedback?
Send us feedback via email to support@jenhemphill.com or click here to leave a voicemail.
The post, Celebrating 8 Years of Her Dinero Matters: Join the Party! | HDM Birthday appeared first on the Her Dinero Matters Podcast.