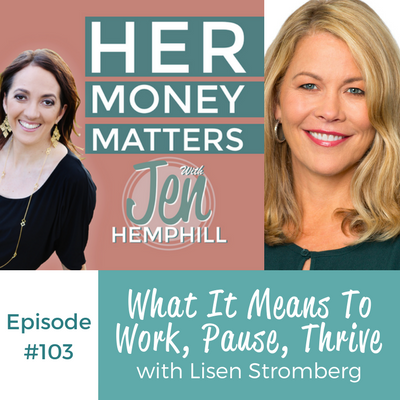 It is more common for women to take a pause in their careers.  I am one of these women and maybe you are one too.   
In this interview with Lisen Stromberg, we dive deep into what it means to work, pause and thrive.  
Listen to the Episode Below
What pausing is and why owning it is so important

The lessons she learned after taking a pause in the workforce to be at home with her children

What still hasn't changed in the workforce

What she means by human capital and why it matters
How Lisen Grew Up Around Money
Lisen got her first job at an ice cream shot at 13 after she lied about her age, saying she was 16.  At that age she understood that having money meant freedom, something that she learned at a very young age.
Lisen came from a long line of entrepreneurs. Her father however was a very successful lawyer and businessman, but her grandfather was an entrepreneur.  Her mom was was a stay at home mom, and growing up, Lisen watched her negotiate not having money, and what that meant for her, and as a result, Lisen decided that she would always make sure she nurtured a career so she would never be in that position herself.
As a result, Lisen grew up to be very independent.  At home, her family discussed sex, but never money.  Now as a parent, she feels very strongly about talking with her children about money, empowering them around money, so that they can figure out how and where to earn it.    
Lisen's book Work, Pause, Thrive was inspired by the Lean In movement that looks to empower women.  She found that a lot of younger women were coming to her for advice on how to integrate careers with children and caregiving. She then set out to find out the facts.
Lisen the set out on a campaign and interviewed 186 women, and surveyed another 1500 to find out how they integrated children with career.  The criteria was that they be college educated, and have children.  These were the women that were supposedly at the top of the ladder, and she wanted to find out why.  
The results were quite astounding.  She found that 72% of the women had either downshifted or left the paying workforce entirely as some point in their careers.  And even more interesting was the fact that many very successful women she interviewed didn't even own their pauses, stating instead that they were simply taking time off to take care of their parents or children, not pausing.  
She found ultimately that there is a deep seated bias against caregiving, and that we are not owning our own truth and stories.  Lisen wanted to break through that bias, and acknowledge that these women were rocking it,  and they need to realize that they are trailblazers, and creating their own truths.
The definition of pause is different for everyone – for some it is reduced hours, going part-time, or leaving the workplace completely.  Some of those women go back after an extended absence, even 15 years, boomerang back and completely reinvent their careers.
There are also women who use that pause to pivot.  They leave their corporate jobs and downshift to care give, and then reinvent themselves.  Technology has caught up to what women want, encouraging entrepreneurship and gig work. The way we work is changing at a rapid pace – more flexibility, and work from home options.  
What hasn't changed is the huge lack of support for mothers in the workplace.  There is also a deep seated bias towards women who are seen as less productive, and less promotional.  
However, with the majority of consumers being women, clients are asking for more female representation – 50/50 in fact.  So changes are needed, and being encouraged.
What Lisen Does Well With Money
Lisen admits that in the past she did not inform herself on what a fair wage was for her profession.  "You muck with the money you muck with the family" became her philosophy.  She is now very empowered now and is willing to forgo opportunities  in favor of the right positions with the right salary and benefits.  
She also was vigilant about saving while she was on pause from the workforce, ensuring she continued to make contributions to her retirement, and savings program so that she would be able to support her children in future years.   Lisen offers listeners this piece of advice:  Your human capital matters, and whether you are in the paying work force or not, support your human capital (meaning your children).
In the book in the chapter called Money Matters, Plan Accordingly, Lisen has a link to a calculator that evaluates the implication of loss revenue.  This will allow you to plan ahead, and be prepared for the future.
Best Money She Spent  
The best money Lisen has ever spent was on high quality child care.  She finds it heartbreaking that at the moment, there is a huge influx of millennials that are being shoved out of the workplace because they cannot handle the high cost of child care coupled with student loans because the high cost of child care in the US.  
What Tools Lisen Uses
Lisen and her husband use Quicken, and use a Pro-forma for 1, 5, 10 and 20 years ahead.  She admits that during the brief time she wasn't earning money, she wasn't as attentive about managing the money and if she had the chance, she would go back and do things differently.  
Proudest Money Moment
For Lisen, going back to work after a pause, and making more money than before was a very proud money moment.   Of course, the longer the pause, the more difficult the reintegration to the workforce will be.  Successful reintegration depends on staying in touch – the most successful women never took their eyes off of their careers.  They networked, attended conferences, and communicated with colleagues.  
Her Money Matters because…

Her money matters because she's heart and soul of her family. So if she is the champion of her family, you have to pay her well."–Lisen Stromberg

Resources From This Episode:
Listen to the [REPLAY] HMM 103: What It Means To Work, Pause, Thrive With Lisen Stromberg  with some extra notes and I share with you how my thoughts may or may not have changed since recording this episode. CLICK HERE!
Lisen's Book Work, Pause Thrive **
Lean In by Sheryl Sandberg**
**Please note the link is an  affiliate link so I may receive a small commission if you purchase**
Get notified when the new limited series private podcast goes live where we explore budgeting, why it is so misunderstood and how you can make it work for you once and for all: https://jenhemphill.com/limited
For all of those financially strong women who want to keep learning and taking control of their finances here is what you were asking for! Financially Strong Circle enrollment now open.  JOIN HERE! 
Follow us on your favorite podcast player and review! If you listen on Apple Podcast you can review THERE. If not you can go HERE to review on Podchaser! THANK YOU! 😉
I want to hear from you!  What was your favorite takeaway from this episode? Go ahead and come on over to our community and share with us there.
You can join our community (and receive our weekly newsletters) by grabbing The Daily Dinero Ritual!
☕️☕️☕️☕️☕️☕️☕️☕️☕️☕️☕️☕️☕️☕️☕️☕️☕️☕️☕️☕️☕️
I want to hear from you!  What was your favorite takeaway from this episode? Come on over to @Jenhemphill on Instagram and share it with us there.
Abrazos + Much Love,
Jen
P.S. ¡GRACIAS por escuchar! THANKS for listening!
The post, [REPLAY] HMM 103: What It Means To Work, Pause, Thrive With Lisen Stromberg appeared first on the Her Dinero Matters Podcast