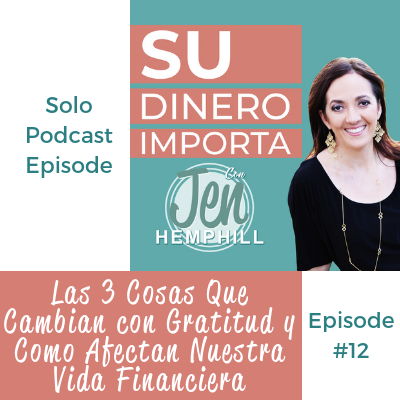 Tener y expresar gratitud no es un consejo que nunca hemos escuchado. Lo único que sabemos es que nos hace sentir bien.
¿Y nuestra vida financiera? ¿Que tiene que ver la gratitud con esto?
Vamos analizar esto para poder entender el efecto que tiene la gratitud en nuestra vida financiera.
Listen to the Episode Below
Lo que aprenderás en el episodio de hoy:
Las 3 palabras que definen la gratitud
Las tres cosas de en tu vida que cambian en practicar esto
6 maneras de expresarla
Resources From This Episode:
I want to hear from you!  What was your favorite takeaway from this episode? Please come on over to our community and share with us there.
You can join our community (and receive our weekly newsletters) by grabbing The Daily Dinero Ritual!
Abrazos + Much Love,
Jen
P.S. THANK YOU for listening!
The post, Las 3 Cosas Que Cambian con Gratitud y Como Afectan Nuestra Vida Financiera | SDI 12 appeared first on the Su Dinero Importa Podcast