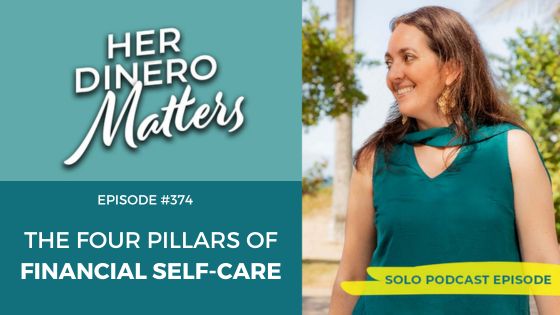 This Episode is Brought to you by Cash App
Imagine a life where money signifies confidence, not stress. A life where each financial choice moves you toward wellness. A life where your financial health is nurtured like your physical and mental wellbeing. This isn't just about budgeting – it's a lifestyle of true financial self-care, available to you.
Self-care is essential, but nurturing your financial health is often overlooked. This episode focuses on integrating financial self-care to minimize money stress, gain confidence, and tackle those life surprises with ease.
Learn all about the foundation for true financial wellbeing – with savvy financial self-care strategies designed for you to flourish, not just survive. Implementing financial self-care will help you redefine your relationship with money and unlock the lifestyle you deserve!
What you'll learn about in today's episode:
What is financial self-care and how it will transform your finances.
4 areas of financial self-care you can't ignore and examples of eachWhat exact questions you can ask yourself to choose the area of financial self-care to focus on.
Listen to the Episode Below
You can also watch on YouTube!
Resources from this episode:
#133 – The Dream Budget Missing In Your Financial Life
Grab your spot and join us for Financially Strong Latina 2023. Get all the details here: financiallystronglatina.com
Related Her Dinero Matters episodes you may enjoy:
#101 – A Holistic View On Money With Sarah Li-Cain
#248 – How to Rewire Your Brain and Grow Your Money
☕️☕️☕️☕️☕️☕️☕️☕️☕️☕️☕️☕️☕️☕️☕️☕️☕️☕️☕️☕️☕️
Get involved in our community:
Join the conversation in our community on Facebook: jenhemphill.com/community


Want to get social? Let's connect more on Instagram @jenhemphill
Enjoy the Show?
Be sure to never miss an episode by hitting the subscribe or follow button on your favorite podcast app! Get instant notifications of the latest episodes now!
Be sure to share with a friend (or two)! You never know what someone is going through in their financial life. Here is a tweet you can share now:
If you listen on Apple Podcasts you can review THERE. If not you can go HERE to review on Podchaser! THANK YOU!
Have Feedback?
Send us feedback via email to support@jenhemphill.com or click here to leave a voicemail.
The post, The Four Pillars of Financial Self-Care | HDM 374 appeared first on the Her Dinero Matters Podcast.