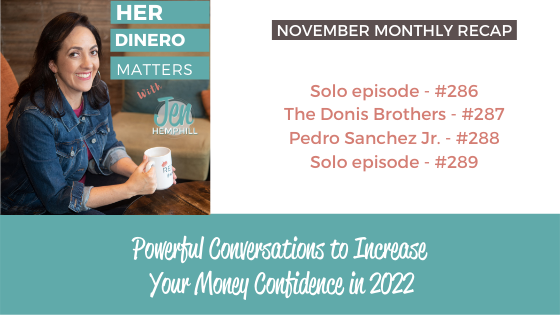 There is only one month to go until the end of 2021, can you believe it? But it doesn't mean that you still can't reach the financial goals you've set for this year. If you need a little extra motivation or if you want to start 2022 financially strong … I recommend listening to these 4 episodes that can be useful to boost your financial journey and increase your money confidence.
Quick Recap
Here is what we covered this month on Her Dinero Matters Podcast:
In episode 286:
"How Atomic Habits Can Help Your Finances" – Solo episode
There are some things we do without thinking like snoozing the alarm multiple times every morning or stopping by a coffee every day before going to work. Those actions are habits which can be good, neutral and or bad for your money depending on your particular situation. In this episode, I wanted to discuss this topic because I have been very inspired by the book "Atomic Habits" by the author James Clear as it has given me a new perspective on habits and their impact on our finances.
 To listen to this episode click here. 
In episode 287:
"How They Are Changing Their Family's Legacy – The Donis Brothers
Maybe you have dreamt about changing your family's legacy but you don't know where to start.  In this episode you will meet the Donis brothers who share how they are changing their family's legacy with real estate investing. They also share the top mistakes to avoid when starting in the real estate space and some helpful tips.
To listen to this episode click here. 
In episode 288:
"Values and Our Money, Why We Should Pay Attention" – Pedro Sanchez Jr.
Our values matter and when it comes to values and our money we need to pay close attention. Sometimes though, our spending is not aligned with our values. If that happens, we need to ask ourselves why. In this episode, Pedro Sanchez Jr. shares with us his core values, where do they come from and why are they important.
To listen to this episode click here. 
In episode 289:
"A Dinero Thanksgiving Ritual For You" – Solo episode
On Thanksgiving day we practice gratitude and hopefully are surrounded by our loved ones.  When you get some  "alone time", use this  Thanksgiving ritual that will help you to be grateful with yourself, your money, your family and your financial actions this year.
To listen to this episode click here. 
Abrazos + Much Love,
Jen
P.S. Also, you don't want to miss Financially Strong Latina – La Membresía. For all of those financially strong women who want to keep learning and taking control of their finances here is what you were asking for: JOIN HERE!
P.S.S. Follow us on your favorite podcast player and review! If you listen on Apple Podcast you can review there. If not you can go HERE to review on Podchaser! THANK YOU! 😉
You can join our community (and receive our weekly newsletters) by grabbing The Daily Dinero Ritual!
Have Feedback?
Send us feedback via email to support@jenhemphill.com or click here to leave a voicemail.