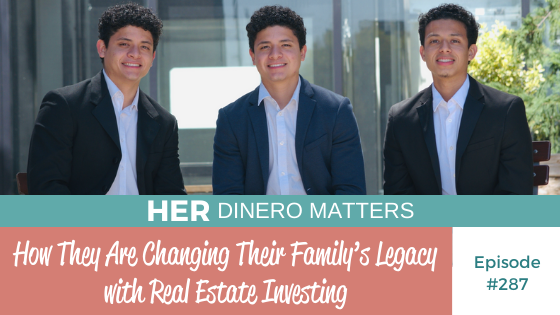 Maybe you have dreamt about changing your family's legacy but you don't know where to start. There are a variety of options and one is not better than the other. In this episode you will meet the Donis brothers who share how they are changing their family's legacy with real estate investing.  
Jeffrey, Kenneth, And Kerwin are three brothers from North Carolina who specialize in Multifamily Real Estate, and two of them are here to share with us their upbringing and lessons they had around money. They also share the top mistakes to avoid when starting in the real estate space and some helpful tips.
What you'll learn about in today's episode:
The Donis brothers experiences/lessons around money

The top mistakes to avoid when starting in the real estate business

A helpful tip for anyone interested on Real Estate
Listen to the Episode Below
Want To Listen To Certain Parts Of The Episode?
Hover Over The Minute Mark Below And It Will Take You To That Part Immediately. 🙌🏽
↳Behind their financial upbringing, experiences, and lessons. [3:33]
↳The Donis brothers' pivotal moment that changed their mindset. [6:40]
↳What wholesaling is and what it means? [12:28]
↳Why they decided to transition into multifamily real estate investing? [13:24]
↳The top mistakes to avoid when starting in the real estate business. [15:18]
↳Their take on Latinx community involved in real estate investing. [18:10]
↳Some resources focused on real estate in the multifamily space. [23:43]
↳Is it possible to start investing in multifamily properties on our own? [27:37]
↳They share if their age has ever been a limitation in this field? [29:31]
↳A helpful tip to all listeners interested in Real Estate. [31:11]
Resources From This Episode:
Connect with the Donis brothers: www.donisinvestmentgroup.com
Grab your copy of my  Daily Dinero Ritual and increase your money confidence (it's free). You can join our community (and receive our weekly newsletters) just by grabbing it.
For all of those financially strong women who want to keep learning and taking control of their finances here is what you were asking for! Financially Strong Latina – La Membresía enrollment now open.  JOIN HERE! 
Follow us on your favorite podcast player and review! If you listen on Apple Podcast you can review THERE. If not you can go HERE to review on Podchaser! THANK YOU! 😉
This episode has been brought to you by McDonald's
☕️☕️☕️☕️☕️☕️☕️☕️☕️☕️☕️☕️☕️☕️☕️☕️☕️☕️☕️☕️☕️
I want to hear from you!  What was your favorite takeaway from this episode? Come on over to @Jenhemphill on Instagram and share it with us there.
Abrazos + Much Love,
Jen
P.S. ¡GRACIAS por escuchar! THANKS for listening!
Enjoy the Show?
Be sure to never miss an episode by hitting the subscribe or follow button on your favorite podcast app! Get instant notifications of the latest episodes now!
Be sure to share with a friend (or two)! You never know what someone is going through in their financial life. Here is a tweet you can share now:
Have Feedback?
Send us feedback via email to support@jenhemphill.com or click here to leave a voicemail.
The post, How They Are Changing Their Family's Legacy with Real Estate Investing | HDM 287 appeared first on the Her Dinero Matters Podcast.