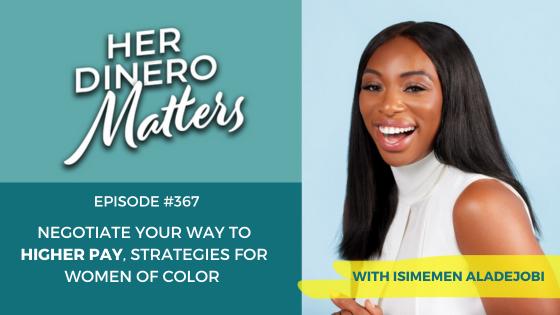 The pay gap is real and it's costing women of color millions. But it doesn't have to be this way, you deserve higher pay. It's time to shake off limiting beliefs and negotiate for what you're worth. This episode is all about that, you'll learn strategies to advocate for the income that sets you up for a secure future. You bring immense value , now it's time to learn how to get paid for it.
Do you struggle to ask for the salary you deserve? Many women face self-doubt and limiting beliefs that sabotage their career growth.
No te estreses!!! Our guest Isimemen (Isi) Aladejobi is here to transform your mindset around negotiation and empower you to confidently advocate for higher pay.
She is a career coach who has helped over 300 women negotiate salary increases totaling $4 million since the pandemic began. Her negotiation training has empowered women to earn six-figures, double their income, and advance their careers.
What you'll learn about in today's episode:
Tips for knowing your worth and being able to articulate the value you bring to your role.
The key actions that can lead to successfully increasing your income in your current work.
What information you need before asking for a salary increase.
Listen to the Episode Below
You can also watch on YouTube!
Resources from this episode:
Isimemen's Website: isimemen.com/start
Related Her Dinero Matters episodes you may enjoy:
#352 – Master Your Negotiation Skills
#20 – 5 Consejos Para Mejor Negociar Su Salario Con Jessie Medina
☕️☕️☕️☕️☕️☕️☕️☕️☕️☕️☕️☕️☕️☕️☕️☕️☕️☕️☕️☕️☕️

Get involved in our community:
Join the conversation in our community on Facebook: jenhemphill.com/community


Want to get social? Let's connect more on Instagram @jenhemphill
Enjoy the Show?
Be sure to never miss an episode by hitting the subscribe or follow button on your favorite podcast app! Get instant notifications of the latest episodes now!
Be sure to share with a friend (or two)! You never know what someone is going through in their financial life. Here is a tweet you can share now:
If you listen on Apple Podcasts you can review THERE. If not you can go HERE to review on Podchaser! THANK YOU!
Have Feedback?
Send us feedback via email to support@jenhemphill.com or click here to leave a voicemail.
The post, Negotiate Your Way to Higher Pay, Strategies for Women of Color | HDM 367 appeared first on the Her Dinero Matters Podcast.