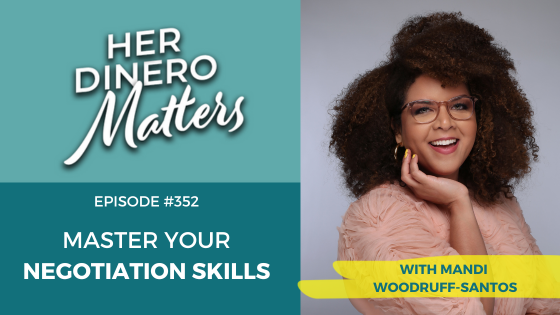 Are you ready to unlock more opportunities in getting the job offers you truly deserve? With making some tweaks to improve your negotiation skills, you can position yourself in the best possible way for companies to recognize the value you bring.  In this episode you'll discover how to make your next negotiation a success and so much more!
If you look closely, negotiating is easier than you think. Being open to what you can learn to improve your negotiation skills doesn't hurt. This way you can achieve everything you set out to do, whether personal and/or professional. Sit back and open your mind to the possibilities while embracing the power of negotiation.
Our guest today Mandi Woodruff-Santos has vast knowledge in negotiation techniques, which has greatly contributed to her own success in increasing her salary each time.
She is a career expert, the founder of MandiMoney Makers, and the co-host of Brown Ambition podcast.  Mandi also helps women of color achieve financial and career goals through her online coaching community.
What you'll learn about in today's episode:
What other factors can be negotiated besides a salary raise.
What steps you can take to showcase the value you contribute and the outstanding work you perform in your job.
How to utilize the shares in your own company for your benefit.
Listen to the Episode Below
You can also watch or listen on YouTube!
Resources from this episode:
Connect with Mandi: www.mandimoney.com
Related Her Dinero Matters episodes you may enjoy:
#20 – 5 Consejos Para Mejor Negociar Su Salario Con Jessie Medina
#238 – How To Not Be Complacent With Latina Equal Pay Day
☕️☕️☕️☕️☕️☕️☕️☕️☕️☕️☕️☕️☕️☕️☕️☕️☕️☕️☕️☕️☕️
Get involved in our community:
Join the conversation in our community on Facebook: jenhemphill.com/community


Want to get social? Let's connect more on Instagram @jenhemphill
Enjoy the Show?
Be sure to never miss an episode by hitting the subscribe or follow button on your favorite podcast app! Get instant notifications of the latest episodes now!
Be sure to share with a friend (or two)! You never know what someone is going through in their financial life. Here is a tweet you can share now:
If you listen on Apple Podcasts you can review THERE. If not you can go HERE to review on Podchaser! THANK YOU!
Have Feedback?
Send us feedback via email to support@jenhemphill.com or click here to leave a voicemail.
The post, Master Your Negotiation Skills | HDM 352 appeared first on the Her Dinero Matters Podcast.