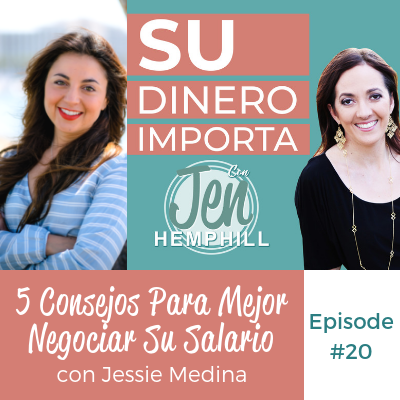 ¿Te has encontrado con la oportunidad de negociar su salario pero no sabes por dónde empezar?
Jessie Medina comparte con nosotros algunos consejos fantásticos que han sido exitosos para ella y mucho más.
El Spanish Barometer de hoy es el 90%.
__________________________________________
5 Tips to Better Negotiate Your Salary with Jessie Medina | SDI 20
Have you found yourself with an opportunity to negotiate your salary but didn't know where to start?
Jessie Medina shares with us some fantastic tips that have been successful for her and so much more.
Spanish Barometer today is 90%.
Lo que aprenderas en episodio de hoy (What you'll learn about in today's episode):
Qué sucedió al no aprender a manejar su propio dinero. (What happened as a result of not learning how to manage her money.)

Sus 5 mejores consejos de negociación. (Her top 5 negotiation tips.)

Las lecciones principales de dinero que ella ha aprendido. (The 3 major money lessons she has learned.)
Resources From This Episode:
Our NEW community is waiting for you: jenhemphill.com/comunidad
I want to hear from you!  What was your favorite takeaway from this episode? Please come on over to our community and share with us there.
You can join our community (and receive our weekly newsletters) by grabbing The Daily Dinero Ritual!
Abrazos + Much Love,
Jen
P.S. ¡GRACIAS por escuchar! THANKS for listening!
The post, 5 Consejos Para Mejor Negociar Su Salario Con Jessie Medina | SDI 20 appeared first on the Su Dinero Importa Podcast