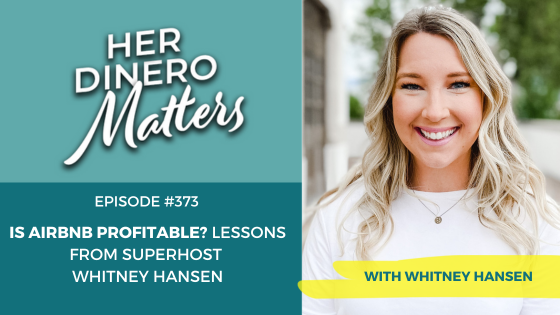 Have you ever stayed in an Airbnb and wondered about the business behind it? Maybe you were asking yourself: What does it take for an Airbnb to be profitable, what are the key startup costs, etc.
You have questions and we've got answers!
Get the inside scoop on Airbnb hosting straight from Superhost, Whitney Hansen! You'll leave with a clear blueprint for estimating costs, financing unique properties, and calculating profitability before even making a decision. In this episode, you will learn about everything you need to know to turn your hosting dreams into a lucrative reality.
Whitney Hansen is a financial coach, speaker, and host of the award-winning podcast The Money Nerds. She has been featured on major outlets like Forbes, CNBC, and Yahoo! Finance for her money expertise.
After rapidly paying off $30,000 in 10 months, buying a home at 19, she discovered her passion – helping millennials gain control of their finances. Like many of us she enjoys travel, teaching personal finance, testing side hustles, and building one-of-a-kind Airbnbs.
What you'll learn about in today's episode:
Tips for researching the profitability of Airbnbs in your area.
Strategies to test when operating an Airbnb business.
Why financing unique Airbnb properties can be challenging compared to traditional homes.
Listen to the Episode Below
You can also watch on YouTube!
Resources from this episode:
Grab your spot and join us for Financially Strong Latina 2023. Get all the details here: financiallystronglatina.com
Related Her Dinero Matters episodes you may enjoy:
#281 – How This Side Hustle Turned Into Earning Her Six-Figures
#75 – Real Estate Talk With Chicago's Go To Realtor Karla Mina
☕️☕️☕️☕️☕️☕️☕️☕️☕️☕️☕️☕️☕️☕️☕️☕️☕️☕️☕️☕️☕️
Get involved in our community:
Join the conversation in our community on Facebook: jenhemphill.com/community


Want to get social? Let's connect more on Instagram @jenhemphill
Enjoy the Show?
Be sure to never miss an episode by hitting the subscribe or follow button on your favorite podcast app! Get instant notifications of the latest episodes now!
Be sure to share with a friend (or two)! You never know what someone is going through in their financial life. Here is a tweet you can share now:
If you listen on Apple Podcasts you can review THERE. If not you can go HERE to review on Podchaser! THANK YOU!
Have Feedback?
Send us feedback via email to support@jenhemphill.com or click here to leave a voicemail.
The post, Is Airbnb profitable? Lessons from Superhost Whitney Hansen | HDM 373 appeared first on the Her Dinero Matters Podcast.