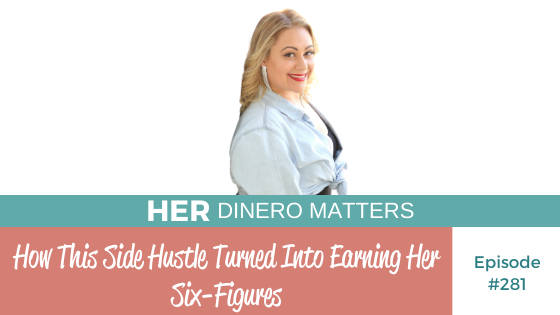 Looking for ways to earn extra money with a side hustle? Side hustles are one of the best ways to increase your income so you can pay off debt, grow your retirement savings, or reduce your financial stress. First, you must define your goal and, second, choose to do something that you love and are good at. In the end all the sacrifice will be worth it. Do you want to know more about the power of side hustle? Keep reading.
In this episode, Jannese Torres-Rodriguez, a nationally-acclaimed Latina Money Expert, Educator, Speaker, Writer and Wealth Coach and host of "Yo Quiero Dinero" podcast, shares with us some of her experiences around money and how she went from a 9-5 job to a side hustle then to full time entrepreneur. She also shares her recommendations for people to look for in a side hustle and the kind of side hustles you need if you are looking to make money fast.
What you'll learn about in today's episode:
How Jannese's heritage influenced her money journey

Her recommendation of what to to look for in a side hustle

What kind of side hustles you need if you are looking to make money fast
Listen to the Episode Below
Want To Listen To Certain Parts Of The Episode?
Hover Over The Minute Mark Below And It Will Take You To That Part Immediately. 🙌🏽
↳Jannese's upbringing and experiences/lessons she had around money. [3:05]
↳The shift from a well paid  9-5 job to a full time entrepreneur all because of starting a side hustle. [6:33]
↳What Jannese recommends to look for in a side hustle. [16:05]
↳The most common and the most unique side hustle Jannese has seen. [19:59]
↳If someone is looking to make money like yesterday, this is the kind of side hustle Jannese recommends. [21:40]
↳Her most memorable feedback about her job. [27:22]
Resources From This Episode:
Connect with Jannese: YoQuieroDineroPodcast.com
Let's celebrate the reina of the week! This week's Reina is: Casandra, she shared with us recent money win she had which was paying her vacation with cash! Amazing Casandra!
As part of our membership program "La membresía", once a month we get together for some fun, we call it The Reina Social. To celebrate Hispanic Heritage Month I am opening it up to the public! Come Join us on Thursday October 14th 8pm ET.  Register here for free! ¡Te esperamos!
Grab your copy of my  Daily Dinero Ritual and increase your money confidence (it's free). You can join our community (and receive our weekly newsletters) just by grabbing it.
For all of those financially strong women who want to keep learning and taking control of their finances here is what you were asking for! Financially Strong Latina – La Membresía enrollment now open.  JOIN HERE! 
Follow us on your favorite podcast player and review! If you listen on Apple Podcast you can review THERE. If not you can go HERE to review on Podchaser! THANK YOU! 😉
☕️☕️☕️☕️☕️☕️☕️☕️☕️☕️☕️☕️☕️☕️☕️☕️☕️☕️☕️☕️☕️
I want to hear from you!  What was your favorite takeaway from this episode? Come on over to @Jenhemphill on Instagram and share it with us there.
Abrazos + Much Love,
Jen
P.S. ¡GRACIAS por escuchar! THANKS for listening!
Enjoy the Show?
Be sure to never miss an episode by hitting the subscribe or follow button on your favorite podcast app! Get instant notifications of the latest episodes now!
Be sure to share with a friend (or two)! You never know what someone is going through in their financial life. Here is a tweet you can share now:
Have Feedback?
Send us feedback via email to support@jenhemphill.com or click here to leave a voicemail.
The post, How This Side Hustle Turned Into Earning Her Six-Figures | HDM 281 appeared first on the Her Dinero Matters Podcast.