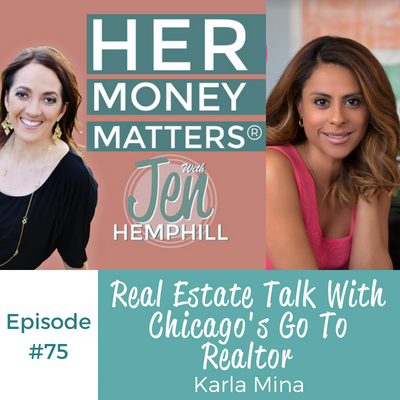 Real Estate talk is always a hot topic.
Maybe you are saving towards buying your first family home, or investing in a rental property.
No matter what it is, there seems to be so much to know!
That is why I brought a special guest expert who is the "go to" realtor in Chicago.  Ok so I gave her the title, but seriously she is a superstar in Chicago!
Press play and get to know this superstar!
Listen to the Episode Below
What You'll Learn In Today's Episode:
What coming from an immigrant family taught her about money and why she felt blessed to be "broke and poor"
Why she considers everything she spends money on an investment
What to look for when buying a home to make it a good investment
Investing in rental property and what to look for
Her thoughts on renting via Airbnb or VRBO
Resources From This Episode:
Karla's Radio Show Market Overdrive airs weekly on Saturdays at 1pm CST
For more info. on loans for 1099 holders www.iloan.com
To connect with Karla further click here
Be sure to join us in our FB Community to continue this conversation!
You can join our community (and receive our weekly newsletters) by grabbing The Daily Dinero Ritual!
Abrazos + Much Love,
Jen
P.S. THANK YOU for listening!
Enjoy The Show?
Be sure to never miss an episode:
Share with a friend by using the social media icons below.
Send us feedback via email to support@jenhemphill.com or click here to leave a voicemail.
**Please note I love to give shout outs to my listeners, so if you'd rather me not mention your email message or play your voicemail on the show be sure to clearly state that, thank you!**