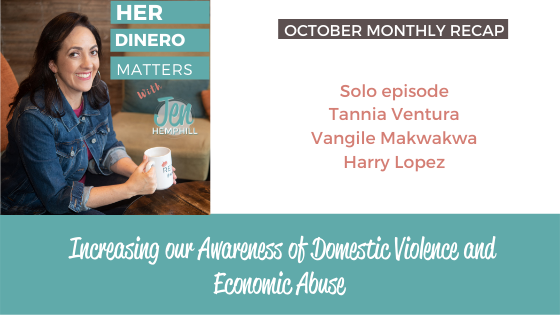 October is Domestic Violence Awareness Month and on the Her Dinero Matters Podcast we wanted to address this topic. More specifically we wanted to shed light on economic abuse and how it impacts our economic security. As a community, it is very important to be aware of this and how it can prevent someone from moving forward and brings many difficult challenges.. We also have a few episodes that can be useful when trying to move on and heal from Domestic Violence.
Quick Recap
Here is what we covered this month on Her Dinero Matters Podcast:
In episode 282: "
The Truth About How Domestic Violence Impacts our Economic Security"
– Solo episode
Did you know 1 in 3 Latinas have experienced intimate partner violence in their lifetime? In this episode, I share with you the difference between Domestic Violence and Intimate Partner Violence. I also share the types of Intimate Partner Violence and some facts to know.
To listen to this episode click here.
In episode 283:
"How FreeFrom is Helping Survivors of Intimate Partner Violence
" – Tannia Ventura
Are you a survivor or do you know someone that is a survivor of Intimate Partner Violence?
In this episode, Tannia shares
what FreeFrom is and how they help survivors of intimate partner violence.
To listen to this episode click here.
In episode 284:
"Ancestral Money Trauma: What It Is and How To Heal It" – Vangile Makwakwa
Are you having a hard time moving forward in your business or in your daily life because you can't discuss money?
In this episode, Vangile shares
with us
her definition of ancestral money trauma and her own process where she helps people to heal from it.
To listen to this episode click here.
In episode 285:
"Simple Tips to Help You Transform Your Life and Your Money" – Harry Lopez
Most of us have had moments of feeling stuck, but we just don't know what to do to experience a breakthrough so we can move forward successfully. Harry is here to share with us the first step to seek transformation and a valuable piece of advice to minimize those limiting money beliefs.
To listen to this episode click here.
Abrazos + Much Love,
Jen
P.S. Also, you don't want to miss Financially Strong Latina – La Membresía. For all of those financially strong women who want to keep learning and taking control of their finances here is what you were asking for: JOIN HERE!
P.S.S. Follow us on your favorite podcast player and review! If you listen on Apple Podcast you can review there. If not you can go HERE to review on Podchaser! THANK YOU! 😉
You can join our community (and receive our weekly newsletters) by grabbing The Daily Dinero Ritual!
Have Feedback?
Send us feedback via email to support@jenhemphill.com or click here to leave a voicemail.