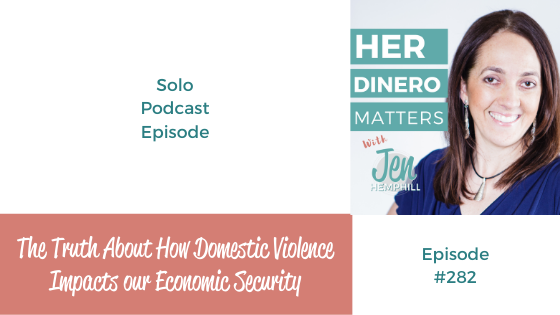 Did you know 1 in 3 Latinas have experienced intimate partner violence in their lifetime? October is Domestic Violence Awareness Month. It's important as a community to have a better understanding of it and how this impacts our economic security. 
In this episode, I share with you the difference between Domestic Violence and Intimate Partner Violence. I also share the types of Intimate Partner Violence and some facts to know.  Keep reading to empower yourself with this information or share with someone you know that needs it.
What you'll learn about in today's episode:
Listen to the Episode Below
Want To Listen To Certain Parts Of The Episode?
Hover Over The Minute Mark Below And It Will Take You To That Part Immediately. 🙌🏽
↳Domestic Violence Awareness Month. [1:06]
↳Domestic Violence Versus Intimate Partner Violence. [3:16]
↳Types of intimate Partner Violence per the CDC. [4:33]
↳Facts about Domestic Violence in our community. [5:08]
↳What the long lasting damage of Intimate Partner Violence is. [8:55]
Resources From This Episode:
Articles mention on this episode:
Domestic Violence Versus Intimate Partner Violence
Facts about Domestic Violence in the Latin@ communities
Long Lasting Damage of Intimate Partner Violence: Financial Abuse
Let's celebrate the reina of the week! This week's Reina is: fire.by.50 on IG. She shared how she got to $500k in her retirement accounts almost by accident. She had rolled over some money into vanguard and forgot about it and it grew then she was investing mindlessly and it grew. Amazing!!
As part of our membership program "La membresía", once a month we get together for some fun, we call it The Reina Social. To celebrate Hispanic Heritage Month I am opening it up to the public! Come Join us on Thursday October 14th 8pm ET.  Register here for free! ¡Te esperamos!
Grab your copy of my  Daily Dinero Ritual and increase your money confidence (it's free). You can join our community (and receive our weekly newsletters) just by grabbing it.
For all of those financially strong women who want to keep learning and taking control of their finances here is what you were asking for! Financially Strong Latina – La Membresía enrollment now open.  JOIN HERE! 
Follow us on your favorite podcast player and review! If you listen on Apple Podcast you can review THERE. If not you can go HERE to review on Podchaser! THANK YOU! 😉
☕️☕️☕️☕️☕️☕️☕️☕️☕️☕️☕️☕️☕️☕️☕️☕️☕️☕️☕️☕️☕️
I want to hear from you!  What was your favorite takeaway from this episode? Come on over to @Jenhemphill on Instagram and share it with us there.
Abrazos + Much Love,
Jen
P.S. ¡GRACIAS por escuchar! THANKS for listening!
Enjoy the Show?
Be sure to never miss an episode by hitting the subscribe or follow button on your favorite podcast app! Get instant notifications of the latest episodes now!
Be sure to share with a friend (or two)! You never know what someone is going through in their financial life. Here is a tweet you can share now:
Have Feedback?
Send us feedback via email to support@jenhemphill.com or click here to leave a voicemail.
The post, The Truth About How Domestic Violence Impacts our Economic Security | HDM 282 appeared first on the Her Dinero Matters Podcast.