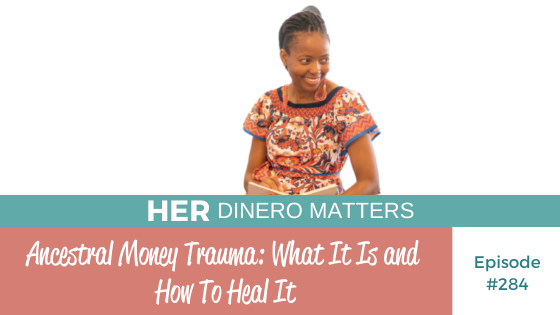 Are you having a hard time moving forward in your business or in your daily life because you can't discuss money? This is normal when you have an ancestral money trauma. It's important to tune into it, how your body is responding to it and if it wildly changes your personality. Remember that how you process every experience is subjective, because what overwhelms you, may not overwhelm other people and vice versa. Listen to your body and emotions, don't just let them pass you by.
In this episode, we have Vangile Makwakwa, founder of Wealthy Money who is passionate about helping people heal their ancestral money trauma so they can unlock their inner money guru and thrive. She shares with us her experiences/lessons she had around money, and when she thinks ancestral money trauma started for her. She also shares her definition of this type of trauma and her own process where she helps people to heal from it.
What you'll learn about in today's episode:
Vangile's definition of ancestral money trauma

What her process is in helping people heal this trauma

Her top tip for someone who is dealing with ancestral money trauma
Listen to the Episode Below
Want To Listen To Certain Parts Of The Episode?
Hover Over The Minute Mark Below And It Will Take You To That Part Immediately. 🙌🏽
↳Vangile's upbringing and her experiences/lessons she had around money. [2:42]
↳When she thinks her ancestral money trauma started. [9:39]
↳The exact point in her journey which Vangile decided to do something about her ancestral money trauma. [15:51]
↳Her definition of ancestral money trauma. [21:01]
↳Vangile's word for someone that is having a hard time accepting that what they are experiencing is in fact ancestral money trauma. [23:17]
↳How is she healing her own trauma. [26:48]
↳Her process in helping people heal this trauma. [30:35]
↳Her top tip for  someone who is dealing with ancestral money trauma. [33:40]
Resources From This Episode:
Connect with Vangile: www.wealthy-money.com
Vangile on Facebook: Wealthy Money
Vangile on Instagram: @vangilemakwakwa
Grab your copy of my  Daily Dinero Ritual and increase your money confidence (it's free). You can join our community (and receive our weekly newsletters) just by grabbing it.
For all of those financially strong women who want to keep learning and taking control of their finances here is what you were asking for! Financially Strong Latina – La Membresía enrollment now open.  JOIN HERE! 
Follow us on your favorite podcast player and review! If you listen on Apple Podcast you can review THERE. If not you can go HERE to review on Podchaser! THANK YOU! 😉
☕️☕️☕️☕️☕️☕️☕️☕️☕️☕️☕️☕️☕️☕️☕️☕️☕️☕️☕️☕️☕️
I want to hear from you!  What was your favorite takeaway from this episode? Come on over to @Jenhemphill on Instagram and share it with us there.
Abrazos + Much Love,
Jen
P.S. ¡GRACIAS por escuchar! THANKS for listening!
Enjoy the Show?
Be sure to never miss an episode by hitting the subscribe or follow button on your favorite podcast app! Get instant notifications of the latest episodes now!
Be sure to share with a friend (or two)! You never know what someone is going through in their financial life. Here is a tweet you can share now:
Have Feedback?
Send us feedback via email to support@jenhemphill.com or click here to leave a voicemail.
The post, Ancestral Money Trauma: What It Is and How To Heal It | HDM 284 appeared first on the Her Dinero Matters Podcast.