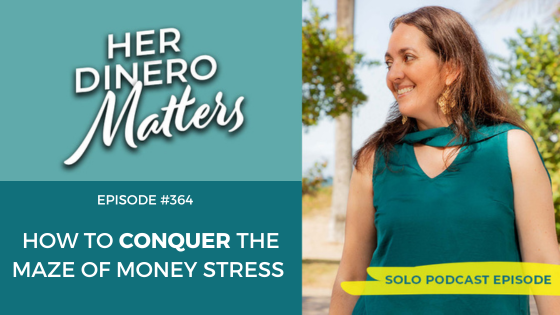 Money stress, that familiar knot in your stomach. This is something we've all experienced. But what if you could face it with grace, compassion, and confidence? Join us as we unravel the secrets to managing financial stress and explore a world of solutions to put you back in control of your money and your life.
Did you know that 73% of Americans identify money as their primary source of stress? It's a widespread issue, and today, we're not just going to understand it better but also learn effective strategies to manage and overcome it.
But that's not all. I'm going to open up about my own money triggers and share how financial stress recently crept into my life. I want to show you that you're not alone.
On another note, this episode marks a milestone for Her Dinero Matters. We're stepping into the world of video, so get ready to see more of me and our incredible guests on YouTube.
What you'll learn about in today's episode:
Understanding money stress and how to manage it.
Advice on how to address your money situation.
A way to create a plan to take control of your finances.
Listen to the Episode Below
You can also watch on YouTube!
Resources from this episode:
73% of Americans rank their finances as the No. 1 stress in life, according to new Capital One CreditWise survey
Related Her Dinero Matters episodes you may enjoy:
#111 – How to Manage Your Fear of Money with Rachel Luna
#337 – How to Overcome a Financial Crisis and Not Feel Broken
☕️☕️☕️☕️☕️☕️☕️☕️☕️☕️☕️☕️☕️☕️☕️☕️☕️☕️☕️☕️☕️

Get involved in our community:
Join the conversation in our community on Facebook: jenhemphill.com/community


Want to get social? Let's connect more on Instagram @jenhemphill
Enjoy the Show?
Be sure to never miss an episode by hitting the subscribe or follow button on your favorite podcast app! Get instant notifications of the latest episodes now!
Be sure to share with a friend (or two)! You never know what someone is going through in their financial life. Here is a tweet you can share now:
If you listen on Apple Podcasts you can review THERE. If not you can go HERE to review on Podchaser! THANK YOU!
Have Feedback?
Send us feedback via email to support@jenhemphill.com or click here to leave a voicemail.
The post, How to Conquer the Maze of Money Stress | HDM 364 appeared first on the Her Dinero Matters Podcast.