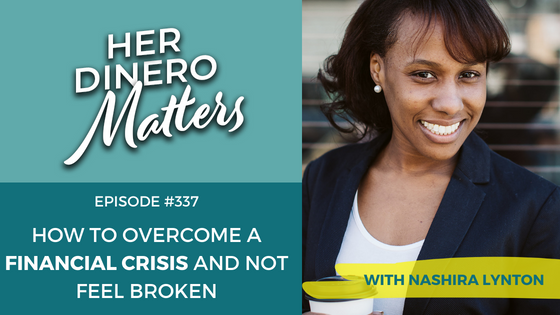 This episode is brought to you by my new class How To Win Paying Off Your Credit Card Debt In This Economy
At a certain point in your life, have you had a debt that affected you emotionally to the point where you felt broken or in a financial crisis?
If that's the case, you'll be able to relate to Nashira Lynton. She is living proof that it's possible to go from a life full of restrictions to an expansive one, and one with the ability to experience financial freedom.
If you've ever had to face a financial crisis, you know it's both an economic and emotional challenge. In this episode, you'll learn from Nashira Lynton how therapy and financial education can help you transform limiting beliefs and enjoy financial freedom that lets you pay off debts without feeling overwhelmed.
Nashira Lynton is a financial therapist and owner of Renewed Wealth Therapy. She has helped families pay off cars, reduce debt (over 100k), build wealth and decrease financial stress.
What you'll learn about in today's episode:
The simple question you should ask yourself to help you have a deeper understanding of your current mindset so you can make a shift that aligns well with you.
How therapy can help you unlock your financial potential and achieve your money goals.
Find out how the financial missteps of our parents can have a negative impact on our lives.
Listen to the Episode Below
You can also watch or listen on YouTube!
Resources from this episode:
Learn more about Nashira and her work here: https://renewedwealththerapy.com/
My new class: How To Win Paying Off Your Credit Card Debt In This Economy —–>>Listener Perk!!! Use the code: HERDINEROMATTERS for $10 off at checkout! **NOTE: Discount code available for a LIMITED TIME ONLY!**
Related Her Dinero Matters episodes you may enjoy:
#249 – How to Handle Crises and Grow Your Money with Nely Galan
#320 – Why Sometimes in a Financial Crisis You Have to Break the Money "Rules"
☕️☕️☕️☕️☕️☕️☕️☕️☕️☕️☕️☕️☕️☕️☕️☕️☕️☕️☕️☕️☕️
Get involved in our community:
Join the conversation in our community on Facebook: jenhemphill.com/community


Want to get social? Let's connect more on Instagram @jenhemphill
Enjoy the Show?
Be sure to never miss an episode by hitting the subscribe or follow button on your favorite podcast app! Get instant notifications of the latest episodes now!
Be sure to share with a friend (or two)! You never know what someone is going through in their financial life. Here is a tweet you can share now:
If you listen on Apple Podcasts you can review THERE. If not you can go HERE to review on Podchaser! THANK YOU!
Have Feedback?
Send us feedback via email to support@jenhemphill.com or click here to leave a voicemail.
The post, How to Overcome a Financial Crisis and Not Feel Broken | HDM 337 appeared first on the Her Dinero Matters Podcast.