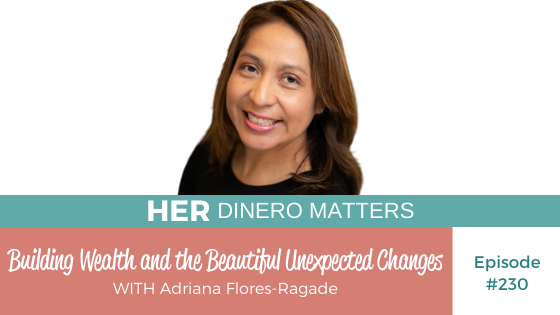 Building wealth is possible. It is a matter of defining what this wealth looks like for you and creating a plan to get there.
Adriana Flores-Ragade immigrated to the United States, and not under the best circumstances.  Over the years, she learned about money and has been building wealth. It's not an easy journey as an immigrant, but Adriana did not let that stop her.
Adriana is the host of LatinxAmerica, a podcast highlighting people in tech, investing, and innovation. Through her work at Univision, the College Board, and the American Red Cross, she has focused on building relationships, impacting communities, and creating long lasting social impact. Her goal is to celebrate every win, personally and professionally.
Listen to the Episode Below
What you'll learn about in today's episode:
Her family's experience selling watermelons door to door in Mexico

Her immigration experience and what led to prioritizing her finances

Despite the circumstances, how she has been able to invest to start generational wealth in her family.
Resources From This Episode:
Connect with Adriana on Linked In HERE.
Want to feel more confident about your dinero? Get my FREE Daily Dinero Ritual
Nominate a mujer (woman) for Reina of the Week here: www.jenhemphill.com/reinaoftheweek
☕️☕️☕️☕️☕️☕️☕️☕️☕️☕️☕️☕️☕️☕️☕️☕️☕️☕️☕️☕️☕️
I want to hear from you!  What was your favorite takeaway from this episode? Come on over to @HerDineroMatters on Instagram and share it with us there.
Abrazos + Much Love,
Jen
P.S. ¡GRACIAS por escuchar! THANKS for listening!
Enjoy the Show?
Be sure to never miss an episode by hitting the subscribe or follow button on your favorite podcast app! Get instant notifications of the latest episodes now!
Be sure to share with a friend (or two)! You never know what someone is going through in their financial life. Here is a tweet you can share now:
Have Feedback?
Send us feedback via email to support@jenhemphill.com or click here to leave a voicemail.
The post, Building Wealth and the Beautiful Unexpected Changes with Adriana Flores-Ragade | HDM 230, appeared first on the Her Dinero Matters Podcast.