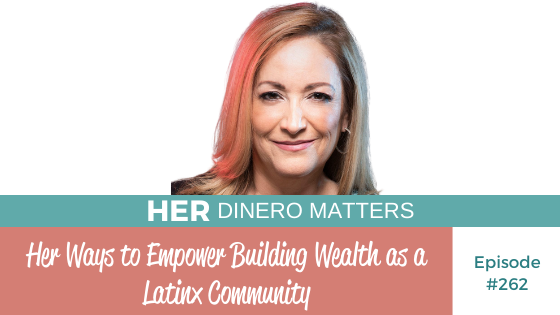 Have you ever thought that being a woman, a Latina or an immigrant makes you different? You are right on that! Remember that you are what you think, and the most important thing is to use that difference as your biggest asset because no one has had your life experience. It's time to influence the next generation to improve the situation AND start doing things differently to building wealth as a Latinx.
 In this episode, Beatriz Acevedo, co-founder, and CEO of SUMA and one of the leading inspirational voices and Latina entrepreneurs in the United States shares valuable information about financial literacy to build and sustain wealth for the Latinx community and a piece of advice to empower Latinas.
Listen to the Episode Below
What you'll learn about in today's episode:
Why creating a trusting relationship is vital for Beatriz.

What SUMA is, and how SUMA came to be.

Her take on what the Latino community should focus on today financially.

A powerful piece of advice for Latinas to build a successful career.
Beatriz's Money Journey
There are moments in life we remember vividly because they were intense or traumatic in a waymarking you for life in a positive or negative way. Beatriz has had several money lessons from those memories that made her the woman she is today.
↳ First money lesson
Beatriz shares with us a financial moment that affected her and her family. She remembers the time when she and her parents were living in México and lost everything because of an overnight massive devaluation of the Mexican peso to the dollar. Due to this experience, she understood firsthand her father's life-long distrust of financial institutions. This is the reason why for Beatriz creating a trusting relationship is vital and how it is important to build trust with the community before trying to push products or services. This is even more important in the financial industry.
↳ On-going money lessons
A money lesson from Beatriz which still has an effect on her is in regards to her father. She explained to us how he came from nothing and became an incredible attorney, philanthropist, historian, among other things. Beatriz's father created a foundation and put every single dollar he made into it, to get rid of the money guilt. Today, Beatriz feels guilty for having opportunities, and she thinks that anxiety relates to her money story growing up.
 Another money lesson Beatriz shares is about her mother and her Latino belief of how being "quiet you look prettier" affects every aspect of life, like opportunities and financial status because you aren't advocating for yourself. Beatriz believes that there is something Latinas can do differently, as a mom, or tía to influence the next generation to become better advocates for themselves. This way we ask for more money at the job and go for the opportunities we want and building wealth as a Latinx,
S U M A
SUMA came to be when Javier Gutierrez, financer and, Co-founder of SUMA, encourage Beatriz to create this startup. She accepted and Suma launched in October 2020. SUMA is a digital platform to empower Latinos and teach all the Latinx communities how to build and sustain wealth. It uses the holistic approach of digital media, fin-tech and virtual experiences. SUMA aims to become the trusted source to help the Latinx community both overcome current financial challenges, and create a more prosperous future.
Latinx Community and Financial Progress
Beatriz states that the stats say that we are the ethnic group that spends more, so she wants to encourage Latinx to be the group that saves and invests more. She also shares the importance of breaking the cycle of not being able to build generational wealth by teaching our children and the young family members to think long-term and help them to understand finances and building wealth as a Latinx.
Her Best Advice To Empower Latinas To Build A Successful Career
Being a woman and being a Latina doesn't define your future. You need to embrace it because your differences make you unique. Think of yourself as a contributor of experiences, your upbringing, your perception, and your point of view a life experience nobody has. Never feel small nor less than for being different.
Resources From This Episode:
SUMA on Instagram: @wearesuma , @somos_suma
SUMA Website: sumawealth.com
Let's join forces to reach all 60 million US Latinos with the awareness campaign #60MillionJuntos. It highlights the huge financial gap affecting Latinos, but also the financial strength of our community and our potential if given the right tools and resources. Click Here!
You can join our community (and receive our weekly newsletters) by grabbing The Daily Dinero Ritual!
Special Announcement:
For all of those financially strong women who want to keep learning and taking control of their finances here is what you were asking for! Financially Strong Latina – La Membresía, amazing benefits for $30 per month, enrollment now open! To know more about the membership Click Here 
☕️☕️☕️☕️☕️☕️☕️☕️☕️☕️☕️☕️☕️☕️☕️☕️☕️☕️☕️☕️☕️
I want to hear from you!  What was your favorite takeaway from this episode? Come on over to @Jenhemphill on Instagram and share it with us there.
Abrazos + Much Love,
Jen
P.S. ¡GRACIAS por escuchar! THANKS for listening!
Enjoy the Show?
Be sure to never miss an episode by hitting the subscribe or follow button on your favorite podcast app! Get instant notifications of the latest episodes now!
Be sure to share with a friend (or two)! You never know what someone is going through in their financial life. Here is a tweet you can share now:
Have Feedback?
Send us feedback via email to support@jenhemphill.com or click here to leave a voicemail.
The post, Her Ways to Empower Building Wealth as a Latinx Community | HDM 262 appeared first on the Her Dinero Matters Podcast.