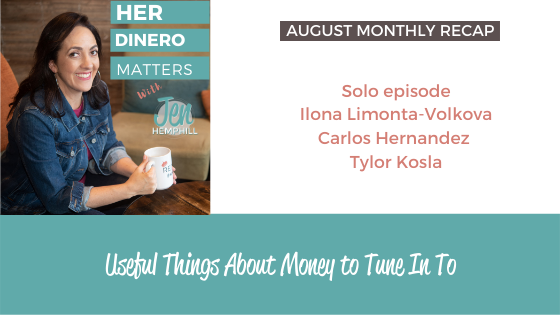 This month on the Her Dinero Matters Podcast the theme is "useful things about money to tune in to". It's in our hands to improve our personal finances, for example to dedicate some minutes of our day to learn something new, increase our money mindset or change some financial habits that are not taking us anywhere.
This recap is full of useful things about money to tune in to, and believe me it can make a difference in your financial journey. We have 4 episodes that will help you with your perspective around money, how to protect your money right now and different resources that can help you with financial information and to protect your consumer rights.
Quick Recap
Here is what we covered this month on Her Dinero Matters Podcast:
In episode 273:
"The One Thing You Can Do Right Now to Protect Your Money" – Solo episode
We can protect our money in several ways, and being financially literate is a perfect example of one of the ways. In this episode, I share with you the importance of our consumer rights, the two government agencies you need to know about that help protect our rights. And I also share the 13 money areas where consumer rights can protect you. 
To listen to this episode click here. 
In episode 274:
"An Easy Look at Money Memories and Your Personal Finances" – Ilona Limonta – Volkova
Are you afraid to take the "next step" in your personal finances or simply in life because it is not "normal" to do around you? In this episode, Ilona shares with us how her father helped her to define her perspective on money, and what made her pursue a career in finances. She also shares her best piece of advice for Latinas.
To listen to this episode click here. 
In episode 275:
"Massive Direct Ways Crediverso is Bridging the Gap With Credit"- Carlos Hernandez
Do you think that sometimes you lose opportunities due to the lack of information that exists in your language or in appropriate media about financial products or services? In this episode, Carlos shares how his household shaped his perspective about money and one of his memories around money. He also shares how Crediverso came to be and how it helps our Latinx community.
To listen to this episode click here. 
In episode 276:
"How Protecting Our Consumer Rights Can Be Affordable"- Taylor Kosla
Thinking of paying a lawyer to help us seems very expensive, right? But let me tell you about protecting our rights as a consumer, paying for a lawyer is not always as expensive as we usually think.  In this episode, Taylor Kosla, partner at Agruss Law Firm, shares with us the importance of monitoring your bank accounts and to never ignore a debt. She also shares what consumer law is and things people should be aware of so they can protect themselves.
To listen to this episode click here. 
Abrazos + Much Love,
Jen
P.S. Also, you don't want to miss Financially Strong Latina – La Membresía. For all of those financially strong women who want to keep learning and taking control of their finances here is what you were asking for: JOIN HERE!
P.S.S. Follow us on your favorite podcast player and review! If you listen on Apple Podcast you can review there. If not you can go HERE to review on Podchaser! THANK YOU! 😉
You can join our community (and receive our weekly newsletters) by grabbing The Daily Dinero Ritual!
Have Feedback?
Send us feedback via email to support@jenhemphill.com or click here to leave a voicemail.