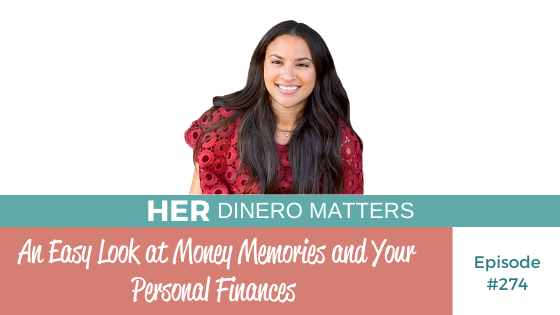 Are you afraid to take the "next step" in your personal finances or simply in life because it is not "normal" to do around you? Just because t personal finances can be a taboo subject to talk about, doesn't mean you can't take some time to strategize and see what you can do to improve your personal finances. You need to trust yourself and do what is right for you no matter what others may think. Nobody has your same experiences and life lessons, and that is your power.
 In this episode, Ilona Limonta-Volkova, host of the Money Memories podcast, and creator of the bilingual financial literacy blog Bear and the Bull, shares with us how her father helped her to define her perspective on money, and what made her pursue a career in finances. She also shares her best piece of advice for Latinas.
What you'll learn about in today's episode:
How her father helped to define her perspective on money

How a microeconomic class made her pursue a career in finance

How "Money Memories" podcast came to be

Her best piece of financial advice for Latinas
Listen to the Episode Below
Want To Listen To Certain Parts Of The Episode?
Hover Over The Minute Mark Below And It Will Take You To That Part Immediately. 🙌🏽
↳Learn Ilona's unique experiences and lessons around money [3:10]
↳How her father helped to define her perspective on money [4:50]
↳The culture differences around money Ilona has seen [6:00]
↳What led her to financial career [10:01]
↳How a this particular class motivated to study finances [10:36]
↳How "Money Memories" podcast came to be [14:39]
↳A piece of financial advice for Latinas [19:42]
↳A little insight on the corporate sector and Latinos [23:36]
Resources From This Episode:
Ilona's website: https://bearandthebull.com
Ilona's podcast: Money Memories
Reina of the Week is back! And this week's Reina is…Elba. She shares that she took some time to go to an unclaimed money website and just for taking a little time to do research, she received $500 in the mail. How about that?
Grab your copy of my  Daily Dinero Ritual and increase your money confidence (it's free). You can join our community (and receive our weekly newsletters) just by grabbing it.
For all of those financially strong women who want to keep learning and taking control of their finances here is what you were asking for! Financially Strong Latina – La Membresía enrollment now open.  JOIN HERE! 
Follow us on your favorite podcast player and review! If you listen on Apple Podcast you can review THERE. If not you can go HERE to review on Podchaser! THANK YOU! 😉
☕️☕️☕️☕️☕️☕️☕️☕️☕️☕️☕️☕️☕️☕️☕️☕️☕️☕️☕️☕️☕️
I want to hear from you!  What was your favorite takeaway from this episode? Come on over to @Jenhemphill on Instagram and share it with us there.
Abrazos + Much Love,
Jen
P.S. ¡GRACIAS por escuchar! THANKS for listening!
Enjoy the Show?
Be sure to never miss an episode by hitting the subscribe or follow button on your favorite podcast app! Get instant notifications of the latest episodes now!
Be sure to share with a friend (or two)! You never know what someone is going through in their financial life. Here is a tweet you can share now:
Have Feedback?
Send us feedback via email to support@jenhemphill.com or click here to leave a voicemail.
The post, An Easy Look at Money Memories and Your Personal Finances | HDM 274 appeared first on the Her Dinero Matters Podcast.