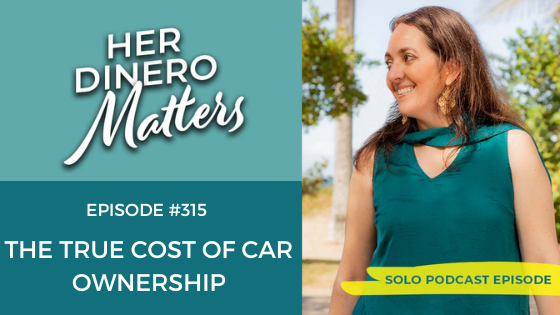 Inflation is at an all time high with rising prices in all aspects of our lives. One of these is the rise of car prices. If you are considering purchasing a car consider the true cost of car ownership before making this decision to help better plan this significant purchase.
In this solo episode I share with you the story of how this topic came about and my own personal struggle with car purchases and ownership.
What else you'll hear about in today's episode:
The latest stats on the average cost of a new car vs a used car
The exact factors to consider in determining the true cost of a car
One significant reason as to why we should consider the true cost before purchasing a car
Listen to the Episode Below
Want To Listen To Certain Parts Of The Episode?
Hover Over The Minute Mark Below And It Will Take You To That Part Immediately. 🙌🏽
↳ My own story and struggle with car purchases and car ownership. [1:57]
↳ Stats on the average cost of a new car vs used car. [9:21]
↳ Latino stats for purchasing cars. [11:32]
↳ Why you should decide ahead of time how long you are going to keep the car. [11:58]
↳ The exact factors to consider in determining the true cost of a car. [13:10]
↳ Calculators to help you gauge the true cost of owning a car. [15:20]
↳ Why we should consider the true cost before purchasing a car. [16:54]
↳ Taking into account purchasing vs leasing a car. [17:23]
Resources From This Episode:
Previous episodes referenced:
136 – Lessons Learned In Being A One Car Family For Seven Years
Calculators:
Articles mention on this episode:
Consumers are shelling out an average $10,000 more for used cars than if prices were 'normal'.
Have cars actually gotten more expensive over time?
New vs. used car value: Navigating the current car market
These are the favorite cars of Hispanic Americans
Click here to watch this episode on YouTube!
If you are interested in learning about a specific money – topic, let us know by filling out this form!
Grab your copy of my Daily Dinero Ritual and increase your money confidence (it's free). You can join our community (and receive our weekly newsletters) just by grabbing it.
Follow us on your favorite podcast player and review! If you listen on Apple Podcast you can review THERE. If not you can go HERE to review on Podchaser! THANK YOU! 😉
☕️☕️☕️☕️☕️☕️☕️☕️☕️☕️☕️☕️☕️☕️☕️☕️☕️☕️☕️☕️☕️
I want to hear from you! What was your favorite takeaway from this episode? Come on over to @Jenhemphill on Instagram and share it with us there.
Abrazos + Much Love, Jen
P.S. ¡GRACIAS por escuchar! THANKS for listening!
Enjoy the Show?
Be sure to never miss an episode by hitting the subscribe or follow button on your favorite podcast app! Get instant notifications of the latest episodes now!
Be sure to share with a friend (or two)! You never know what someone is going through in their financial life. Here is a tweet you can share now:
Have Feedback?
Send us feedback via email to support@jenhemphill.com or click here to leave a voicemail.
The post, The True Cost of Car Ownership | HDM 315 appeared first on the Her Dinero Matters Podcast.