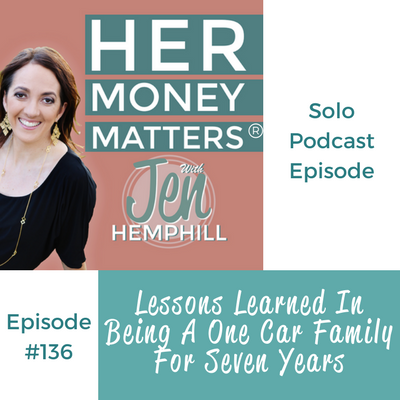 Have you ever thought of downsizing to one car? We made the choice seven years ago and we were a one car family until recently. I share our journey and so much more in this episode.
Listen to the Episode Below
What You'll Learn In Today's Episode:
Why we took the leap and what were we trying to achieve with this "crazy" choice
What we did those 7 years instead of having a second car
Why we shifted gears 7 years later and went back to being a 2 car family
The lessons we learned
Some Teaser Highlights of This Episode:
Why we did it:
✔ We had no need for a second car at the time.
✔ Save money
✔ Pay off debt
✔ Save money for the next car to pay in cash 💪🏼
Were we able to reach this goal when it came time to purchase another car? I'll leave this as a cliffhanger as you'll have to listen to the episode to find out!
Some of the lessons we learned:
✏ Do an assessment of your current car (i.e. how long have you had it, if you owe-how much do you owe, how long do you intend to keep it, etc.)
✏ Be flexible
✏ Being a one car family is doable and not as difficult as we imagined it to be
✏ Whatever mishaps you have they are just that, it is not a failure
I want to hear from you!  What was your favorite takeaway from this episode? Please come on over to our community and share with us there.
Abrazos + Much Love,
Jen
P.S. THANK YOU for listening!
Enjoy The Show?
Be sure to never miss an episode:
Share with a friend by using the social media icons below.
Send us feedback via email to support@jenhemphill.com or click here to leave a voicemail.
**Please note I love to give shout-outs to my listeners, so if you'd rather me not mention your email message or play your voicemail on the show be sure to clearly state that, thank you!**
The post, HMM 136: Lessons Learned In Being A One Car Family For Seven Years  appeared first on the Her Money Matters Podcast.