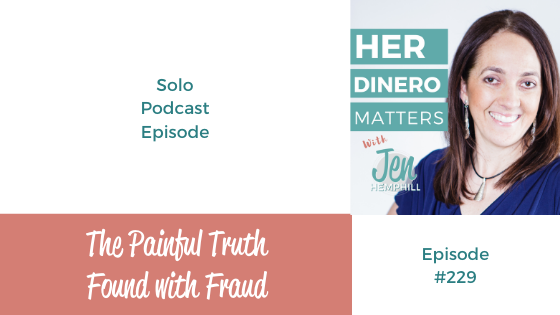 Fraud is nothing to ignore, and we cannot assume it won't happen to us.
According to an article by CNBC, COVID-19 fraud has cost Americans $77 million dollars. Of course you and I don't know when this pandemic of COVID-19 will be over, nor do we know when things will get back to "normal."
The reality is that fraud can happen to any of us at any time, and sadly, it seems that the predators are even more active during challenging times like this when people have big needs, and emotions are running high. In this episode of the Her Dinero Matters Podcast, I share the painful truth about the high cost of fraud during this time, who is at risk of becoming a victim of fraud, and common fraud schemes during the pandemic.
Knowledge is power, and so you'll also learn how you can protect yourself from becoming a victim of fraud. Awareness is the first step, and my hope is that this episode empowers you so that you feel safe and confident as the Reina of your money at a time when so many unscrupulous people are looking for targets.
Listen to the Episode Below
What you'll learn about in today's episode:
The cost of fraud up to now during COVID-19

What scammers look for in their victims

Common fraud schemes

Ways to protect yourself from fraud

One thing to remember if you become a victim of fraud
Resources From This Episode:
Check out this eye-opening article on AARP's website, called "Confessions of a Con Artist." A former scammer who worked for companies that made millions from unsuspecting victims shares his story.
Coronavirus Advice for Consumers, from the FTC
FBI Urges Vigilance During COVID-19 Pandemic
CNBC reports on the high cost of fraud during the pandemic
Stay focused, increase your confidence, and become a true Reina of your money with the Daily Dinero Ritual. You can find this free resource over at: JENHEMPHILL.COM/DINERO
Also, don't forget to mark your calendars for Thursday, September 24th where we have a special guest from AARP again to talk to us about fraud.
UPDATE: You can check out the special episode with AARP on fraud by clicking here.
☕️☕️☕️☕️☕️☕️☕️☕️☕️☕️☕️☕️☕️☕️☕️☕️☕️☕️☕️☕️☕️
I want to hear from you! What was your favorite takeaway from this episode? Come on over to @HerDineroMatters on Instagram and share it with us there.
Abrazos + Much Love,
Jen
P.S. ¡GRACIAS por escuchar! THANKS for listening!
Enjoy the Show?
Be sure to never miss an episode by hitting the subscribe or follow button on your favorite podcast app! Get instant notifications of the latest episodes now!
Be sure to share with a friend (or two)! You never know what someone is going through in their financial life. Here is a tweet you can share now:
Have Feedback?
Send us feedback via email to support@jenhemphill.com or click here to leave a voicemail.
The post, The Painful Truth Found with Fraud | HDM 229, appeared first on the Her Dinero Matters Podcast.