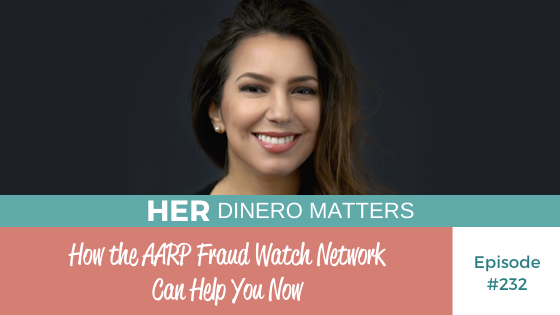 This episode is sponsored by AARP.
Scams and fraud are always present and even more so during crisis situations (or a pandemic like the one we are currently living in).
Scammers are adept at linking their efforts to the headlines, so we are seeing a spike in scams related to health concerns from COVID-19 and the economic downturn. They take advantage of our worries and concerns, and their sophisticated tactics leave none of us immune.
AARP's Fraud Watch Network is a valuable free resource in protecting ourselves and our loved ones. Karina Hertz joins us today to tell us more about this initiative and some important insights on scams and fraud.
What you'll learn about in today's episode:
Scams related to the pandemic and economic downturn
How the AARP Fraud Watch Network can help you spot and avoid scams
Resources for people who have been targeted by scammers
Resources From This Episode:
Fraud Watch Network: aarp.com/fraude
Free Helpline: 877-908-3360
---
Este episodio es patrocinado por AARP.
Las estafas y el fraude siempre están presentes y más aún durante situaciones de crisis (o una pandemia como la que estamos viviendo actualmente).
Los estafadores son expertos en vincular sus esfuerzos a los titulares de las noticias y estamos viendo un aumento en las estafas relacionadas con los problemas de salud de COVID-19 y la recesión económica. Se aprovechan de nuestras preocupaciones e inquietudes, y sus sofisticadas tácticas no nos dejan a ninguno inmune.
La Red Contra el Fraude de AARP, es un valioso recurso gratuito para protegernos a nosotros mismos y a nuestros seres queridos. Karina Hertz nos visita hoy para contarnos más sobre esta iniciativa y algunas ideas importantes sobre estafas y fraudes.
En el episodio de hoy aprenderás:
Estafas relacionadas con la pandemia y la recesión económica
Cómo la Red Contra el Fraude de AARP puede ayudarlo a detectar y evitar estafas
Recursos para personas que han sido atacadas por estafadores
Recursos de Este Episodio:
Red Contra el Fraude: aarp.com/fraude
Llama gratis a la linea de ayuda: 877-908-3360
☕️☕️☕️☕️☕️☕️☕️☕️☕️☕️☕️☕️☕️☕️☕️☕️☕️☕️☕️☕️☕️
I want to hear from you! What was your favorite takeaway from this episode? Come on over to @HerDineroMatters on Instagram and share it with us there.
Abrazos + Much Love,
Jen
P.S. ¡GRACIAS por escuchar! THANKS for listening!
Enjoy the Show?
Be sure to never miss an episode by hitting the subscribe or follow button on your favorite podcast app! Get instant notifications of the latest episodes now!
Be sure to share with a friend (or two)! You never know what someone is going through in their financial life. Here is a tweet you can share now:
Have Feedback?
Send us feedback via email to support@jenhemphill.com or click here to leave a voicemail.
The post, How the AARP Fraud Watch Network Can Help You Now | HDM 232 appeared first on the Her Dinero Matters Podcast.