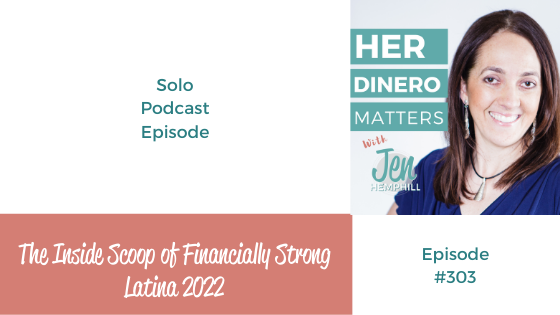 Our free online event, Financially Strong Latina 2022, is just around the corner and I want you to be part of this amazing experience. If you attended this event last year, you have a pretty good idea of what this event will bring to the table, but if you weren't… I would absolutely love to have you this year so we can become  financially stronger together. Let me give you an inside scoop of this year's event.
What you'll learn about in today's episode:
Learn why we are doing it again

What we are focusing on this year

What to expect when you register to Financially Strong Latina 2022
Listen to the Episode Below
Want To Listen To Certain Parts Of The Episode?
Hover Over The Minute Mark Below And It Will Take You To That Part Immediately. 🙌🏽
↳Learn why we are doing it again. [2:25]
↳What we are focusing on this year. [6:43]
↳A little bit about this year's speakers [9:35]
Session 1: Owning Our Power As Latinas To Drive Our Financial Confidence. [10:28]
Session 2: Is All About Focusing On What Matters Most For Our Household Finances. [12:25]

Session 3:

Shifting Our Mindset To Become Financially Stronger. [14:33]
↳What to expect when you register to Financially Strong Latina 2022. [17:11]
Resources From This Episode:
Click here to watch this episode on YouTube!
Connect with Claudia: Claudia Romo Edelman
Connect with Jessica: Jessica Nelson
Connect with Debbie: Debbie O'Hara
Connect with Mayra: Mayra Rocha
Connect with Lorraine: Lorraine Ladish
Connect with Sandra: Sandra Camponogara
Connect with Denise: Denise Soler Cox
Connect with Gerri: Gerri Madrid Davis
Previous Podcasts Episodes with Speakers :
Our virtual series event Financially Strong Latina is back this 2022! CLICK HERE TO GRAB YOUR SPOT (it's FREE) thanks to the sponsorship of AARP. 🙌🏼
Follow us on your favorite podcast player and review! If you listen on Apple Podcast you can review THERE. If not you can go HERE to review on Podchaser! THANK YOU! 😉
☕️☕️☕️☕️☕️☕️☕️☕️☕️☕️☕️☕️☕️☕️☕️☕️☕️☕️☕️☕️☕️
I want to hear from you!  What was your favorite takeaway from this episode? Come on over to @Jenhemphill on Instagram and share it with us there.
Abrazos + Much Love,
Jen
P.S. ¡GRACIAS por escuchar! THANKS for listening!
Enjoy the Show?
Be sure to never miss an episode by hitting the subscribe or follow button on your favorite podcast app! Get instant notifications of the latest episodes now!
Be sure to share with a friend (or two)! You never know what someone is going through in their financial life. Here is a tweet you can share now:
Have Feedback?
Send us feedback via email to support@jenhemphill.com or click here to leave a voicemail.
The post, The Inside Scoop of Financially Strong Latina 2022 | HDM 303 appeared first on the Her Dinero Matters Podcast.