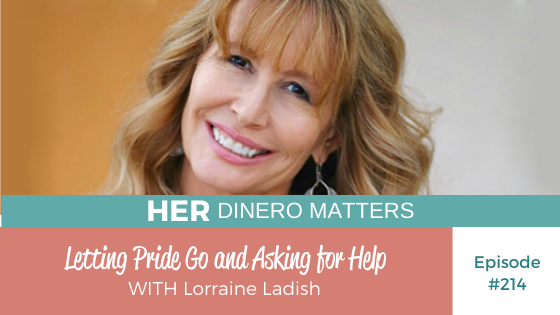 Letting pride go is hard.
Being the mujeres we are we think we can do it all on our own.
And yes, we can absolutely do A LOT but no one can do it all–alone that is.
Life has its ebbs and flows. Sometimes we find ourselves in a difficult situation where we have to make difficult choices.
Back in 2008 Lorraine Ladish found herself in a very challenging situation. Her marriage fell apart, she had kids to support and she found herself without a job.
Lorraine like you is smart and accomplished. At first, she felt like she could figure things out and do it all on her own. She didn't realize that it was her pride talking.
She learned that she needed to be letting her pride go and that it was ok to ask for help.
Receiving food stamps was nothing to be ashamed of and a temporary measure she needed to take care of her family.
Don't miss this beautiful story of transformation and growth.
Listen to the Episode Below
What you'll learn about in today's episode:
What the Spanish Civil War had to do with her money story

The spur events that led to her finding herself a single mom and on welfare

The lessons she learned from the 2008 recession

Why she won't wear gold jewelry ever again
Resources From This Episode:
Connect with Lorraine: VivaFifty.com
Get the details on Dinero Study Hall: The Budgeting Edition
Nominate a mujer (woman) for Reina of the Week here: www.jenhemphill.com/reinaoftheweek
You can join our community (and receive our weekly newsletters) by grabbing The Daily Dinero Ritual!
☕️☕️☕️☕️☕️☕️☕️☕️☕️☕️☕️☕️☕️☕️☕️☕️☕️☕️☕️☕️☕️
I want to hear from you!  What was your favorite takeaway from this episode? Come on over to @HerDineroMatters on Instagram and share it with us there.
Abrazos + Much Love,
Jen
P.S. ¡GRACIAS por escuchar! THANKS for listening!
Enjoy the Show?
Be sure to never miss an episode by hitting the subscribe or follow button on your favorite podcast app! Get instant notifications of the latest episodes now!
Be sure to share with a friend (or two), you never know what someone is going through in their financial life. Here is a tweet you can share now:
Have Feedback?
Send us feedback via email to support@jenhemphill.com or click here to leave a voicemail.
The post, Letting Pride Go and Asking for Help with Lorraine Ladish | HDM 214 appeared first on the Her Dinero Matters Podcast