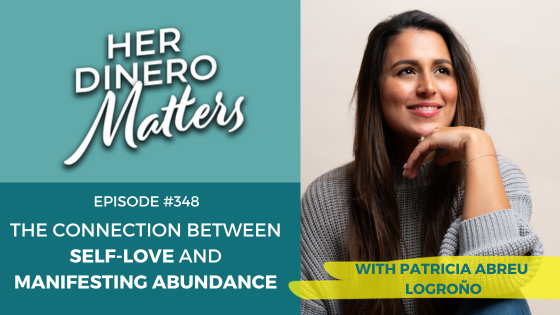 Have you ever wondered how to harness the power for manifesting abundance in your life, regardless of past experiences? You indeed possess this incredible ability!  Or maybe you don't really understand what manifestation is or how it works. This episode explores all of this and more. 
In today's episode, our guest Patricia Abreu Logroño will explain, in simple terms, the connection between self-love, limiting beliefs, manifesting abundance, and recognizing your inherent abundance.
Patricia's mission is to educate, inspire, and raise awareness about the importance of self-love. She is a Life and Spiritual Coach with an Education major, an Inspirational Speaker, and the Podcast Host of "El Arte del Amor Propio."
What you'll learn about in today's episode:
What manifestation is and how to use it to achieve what you want .
Understanding your vibration and frequency and the role it plays in being more abundant.
5 questions you can ask yourself to have clarity on your limiting beliefs.
How self-love is connected to your money.
The main benefit of pen to paper journaling you cannot ignore.
Listen to the Episode Below
You can also watch or listen on YouTube!
Resources from this episode:
Connect with Patricia: elartedelamorpropio.com
Related Her Dinero Matters episodes you may enjoy:
#289 – A Dinero Ritual For You
#248 – How to Rewire Your Brain and Grow Your Money
☕️☕️☕️☕️☕️☕️☕️☕️☕️☕️☕️☕️☕️☕️☕️☕️☕️☕️☕️☕️☕️
Get involved in our community:
Join the conversation in our community on Facebook: jenhemphill.com/community


Want to get social? Let's connect more on Instagram @jenhemphill
Enjoy the Show?
Be sure to never miss an episode by hitting the subscribe or follow button on your favorite podcast app! Get instant notifications of the latest episodes now!
Be sure to share with a friend (or two)! You never know what someone is going through in their financial life. Here is a tweet you can share now:
If you listen on Apple Podcasts you can review THERE. If not you can go HERE to review on Podchaser! THANK YOU!
Have Feedback?
Send us feedback via email to support@jenhemphill.com or click here to leave a voicemail.
The post, The Connection Between Self-Love and Manifesting Abundance | HDM 348 appeared first on the Her Dinero Matters Podcast.