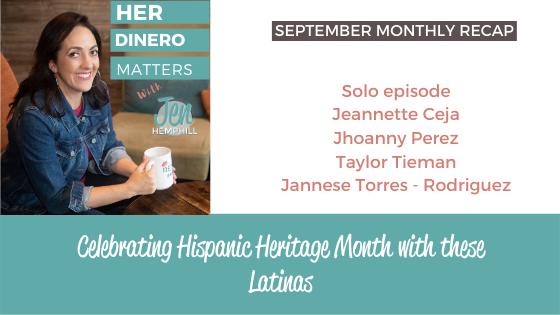 This month on the Her Dinero Matters Podcast, we are celebrating the Hispanic Heritage month and highlight our amazing community. I thought the best way to do it is with some valuable conversations with some spectacular Latinas. These episodes will  empower you to follow your instincts and take some actions to reach your financial and life goals. 
Quick Recap
Here is what we covered this month on Her Dinero Matters Podcast:
In episode 277:
"Do You Know These 3 Things About Hispanic Heritage Month?" – Solo episode
This is the perfect occasion to celebrate Hispanic Heritage Month with all of you. In this episode I share
some interesting things about this one-month celebration, some fun facts about our community, and the culture code of money.
 To listen to this episode click here. 
In episode 278:
"How Travel Like Money is a Mindset" – Jeannette Ceja
Many times, we use money as an excuse not to do the things we love. In this episode, Jeannette Ceja shares her upbringing, how her relationship with money has affected her love for travel and why travel like with money is a mindset
.
To listen to this episode click here. 
In episode 279:
"How to Thrive in the Restaurant Business No Matter What" – Jhoanny Perez
Has the lack of money, economic status or background stopped you before from going after your dreams?
In this episode, Jhoanny shares
with us some of her money memories and how she got into the restaurant business. She also shares the most common mistakes people make in the restaurant business and a piece of advice for those who want to become a restaurant owner.
To listen to this episode click here. 
In episode 280:
"Do You Know How to Legally Protect Your Business and Your Brand?" – Taylor Tieman
Do you have a small business or are you planning to open one?
In this episode, Taylor M. Tieman shares with us why she decided to focus on helping small business owners, and her perspective on what legal help Latina-owned businesses are getting and what kind of legal help she thinks they should get.
To listen to this episode click here. 
In episode 281:
"How This Side Hustle Turned Into Earning Her Six-Figures" – Jannese Torres – Rodriguez
Looking for ways to earn extra money with a side hustle? In this episode, Jannese shares with us some of her experiences around money and how she went from a 9-5 job to a side hustle then to full time entrepreneur. She also shares her recommendations for people to look for in a side hustle and the kind of side hustles you need if you are looking to make money fast.
 To listen to this episode click here. 
Abrazos + Much Love,
Jen
P.S. Also, you don't want to miss Financially Strong Latina – La Membresía. For all of those financially strong women who want to keep learning and taking control of their finances here is what you were asking for: JOIN HERE!
P.S.S. Follow us on your favorite podcast player and review! If you listen on Apple Podcast you can review there. If not you can go HERE to review on Podchaser! THANK YOU! 😉
You can join our community (and receive our weekly newsletters) by grabbing The Daily Dinero Ritual!
Have Feedback?
Send us feedback via email to support@jenhemphill.com or click here to leave a voicemail.