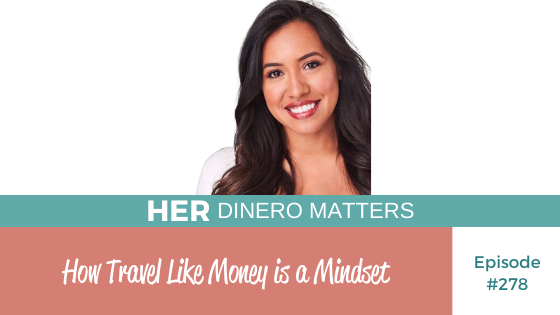 Many times, we use money as an excuse not to do the things we love. One of the most common examples is traveling. We put many blocks before we even allow ourselves to dream of going somewhere or taking a trip. You can travel within any kind of means, time or budget- it is possible. No matter where you are, your circumstances or the time you have (or don't have), if we really want something we'll find a way with a positive travel mindset. If you can relate to this, keep reading.
In this episode, the amazing Jeannette Ceja, a bilingual Travel Journalist, TV Host, Travel Advisor, and a Global Public Speaker, shares with us some of her money memories and her family upbringing around money. She also shares how her relationship with money has affected her love for travel and why travel like with money is a mindset.
What you'll learn about in today's episode:
Jeannette's memories and upbringing around money

How her relationship with money has affected her love for travel

Why travel is mindset
Listen to the Episode Below
Want To Listen To Certain Parts Of The Episode?
Hover Over The Minute Mark Below And It Will Take You To That Part Immediately. 🙌🏽
↳Jeannette's money memories [2:42]
↳Her family upbringing around money [6:55]
↳What came first? Her love for travel or her love for journalism? [8:56]
↳How her personal relationship with money has affected part of her life including her love for travel [12:22]
↳Why travel like with money is a mindset for Jeannette [17:29]
↳Places where Jeannette traveled where she felt pleasantly surprised about [20:06]
↳Where is the most economical Jeannette has traveled to [22:49]
↳What Jeannette thinks is going to be some of the lasting impact on how the pandemic will affect travel for the long term [25:05]
↳The one thing Jeannette with more people know or appreciate about travel [31:02]
Resources From This Episode:
Connect with Jeannette: www.jetsetwitthjeannette.com
Let's celebrate the reina of the week! This week's Reina is: Dolores. She has overcome some challenges recently and literally has seen it though with grace and determination. She's not the type that gives up, and I love that about her.  You are incredible Dolores!
Grab your copy of my  Daily Dinero Ritual and increase your money confidence (it's free). You can join our community (and receive our weekly newsletters) just by grabbing it.
For all of those financially strong women who want to keep learning and taking control of their finances here is what you were asking for! Financially Strong Latina – La Membresía enrollment now open.  JOIN HERE! 
Follow us on your favorite podcast player and review! If you listen on Apple Podcast you can review THERE. If not you can go HERE to review on Podchaser! THANK YOU! 😉
☕️☕️☕️☕️☕️☕️☕️☕️☕️☕️☕️☕️☕️☕️☕️☕️☕️☕️☕️☕️☕️
I want to hear from you!  What was your favorite takeaway from this episode? Come on over to @Jenhemphill on Instagram and share it with us there.
Abrazos + Much Love,
Jen
P.S. ¡GRACIAS por escuchar! THANKS for listening!
Enjoy the Show?
Be sure to never miss an episode by hitting the subscribe or follow button on your favorite podcast app! Get instant notifications of the latest episodes now!
Be sure to share with a friend (or two)! You never know what someone is going through in their financial life. Here is a tweet you can share now:
Have Feedback?
Send us feedback via email to support@jenhemphill.com or click here to leave a voicemail.
The post, How Travel Like Money is a Mindset | HDM 278 appeared first on the Her Dinero Matters Podcast.