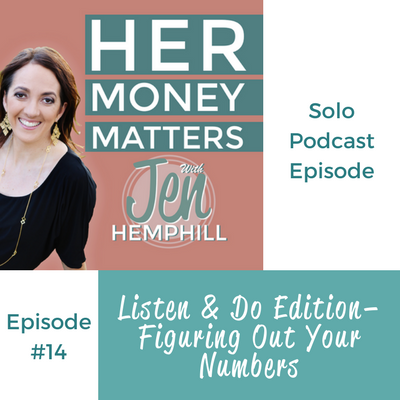 Here is the deal I want to make sure you do the work.  I know life gets in the way sometimes even with the best intentions.  Today I am going to be holding you accountable so get ready :-).
This episode is all about taking action and figuring out what your finances look like in real dollar numbers!  This is why it is important to be sure to "listen & do" during the episode.
You will find that it complements HMM 12: Three Tweaks To Start Affording What You Want, so if you have not listened to this episode yet, do so before tackling this one.
In addition if you haven't grabbed your Jumpstart Your Money Mini-Guide go ahead and do so below.  You will need this to work alongside of me in this episode!
Listen to the Episode Below
What You'll Learn In Today's Episode:
A step-by-step break down on what you need to do to find your numbers without the overwhelm using the Jumpstart Your Money Mini-Guide
How to figure out your bottom-line, what it means and what you can do about it to change it for the better
Details of how you can get on the phone with me for 15 minutes just for taking action
Resources From This Episode:
In case you have been meaning to get my budget spreadsheet, here you go!  Monthly Money Plan template (aka budget spreadsheet)
Grab Your Copy of the Jumpstart Your Money Mini-Guide HERE
So tell me how did it go?  Did you finish going through the mini-guide with me?  If not why not?  What stopped you?
Abrazos (**hugs**),
Jen
P.S. THANK YOU for listening!
Enjoy The Show?
Be sure to never miss an episode:
Share with a friend by using the social media icons below.
Send us feedback via email to support@jenhemphill.com or click here to leave a voicemail.
**Please note I love to give shout outs to my listeners, so if you'd rather me not mention your email message or play your voicemail on the show be sure to clearly state that, thank you!**