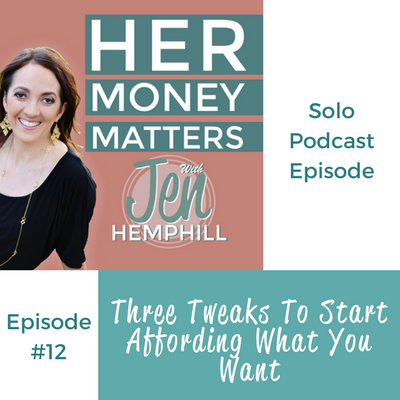 Imagine for a moment you are out with your family during the weekend and while you are out you see an advertisement for THE family getaway of your dreams.  You get excited and all the sudden this pops into your head and out of your mouth "We can't afford that!"
Does this sound familiar?  Are you tired of finding yourself saying and feeling that over and over again?  I have to tell you that there is hope and you can make a change with the 3 tweaks I share in this episode.  Go ahead and tune in, the episode lasts just under 20 minutes!
Listen to the Episode Below
What You'll Learn In Today's Episode:
We peel back the layers of the "I can't afford this" phrase and give you some pointers to help kick it to the curb
Which 2 tweaks helped us to adjust living on one income
The story behind tweak #3, how I use and what it has done for me this year
Which of the three tweaks you can start implementing TODAY!
Gratitude makes sense of our past, brings peace for today, & creates a vision for tomorrow.  Melody Beattie
Resources From This Episode:
Click Here to Get Your Jumpstart Your Money Mini-Guide
Or you can also get it by texting the word MINIGUIDE to 33444
Today I want you to challenge you to celebrate your wins, big or small, money related or not!  You in?
Abrazos (**hugs**),
Jen
P.S. THANK YOU for listening!
Enjoy The Show?
Be sure to never miss an episode:
Share with a friend by using the social media icons below.
Send us feedback via email to support@jenhemphill.com or click here to leave a voicemail.
**Please note I love to give shout outs to my listeners, so if you'd rather me not mention your email message or play your voicemail on the show be sure to clearly state that, thank you!**